■ Overview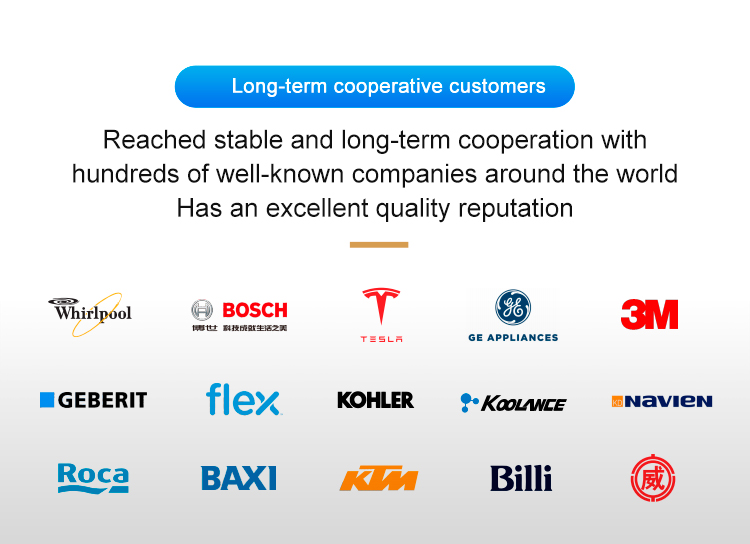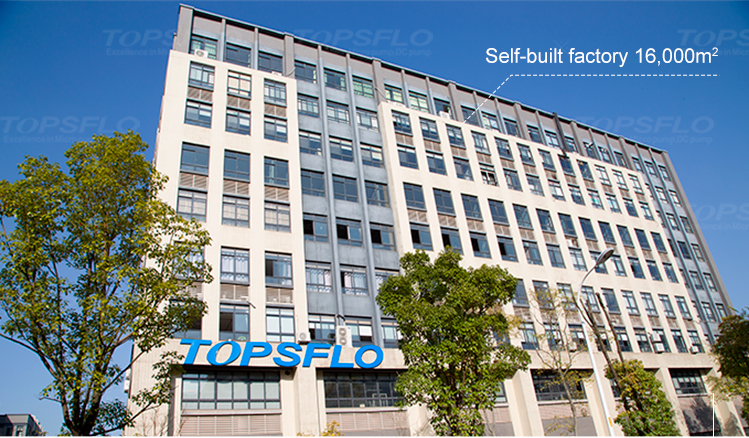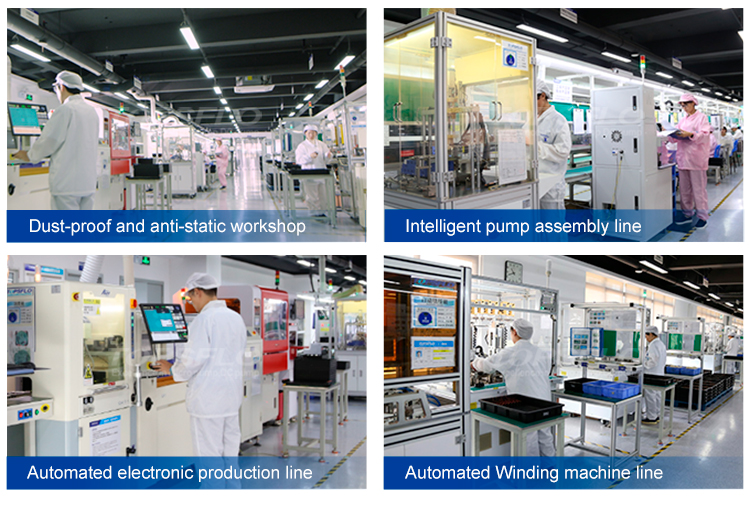 About TOPSFLO Factory

♦ 16000㎡ modern factory with its own physical property rights, ESD anti-static control dust free workshop,100+ sets of professional imported equipment
♦ 4 major professional and precision laboratories that meet the CNAS national laboratory accreditation standards
♦ More than 50 patents in the micro water pump industry, strong research and development strength, and master advanced industry technology
♦ Complete certification, passed CE, ROHS, REACH, WRAS, Food Grade and other certification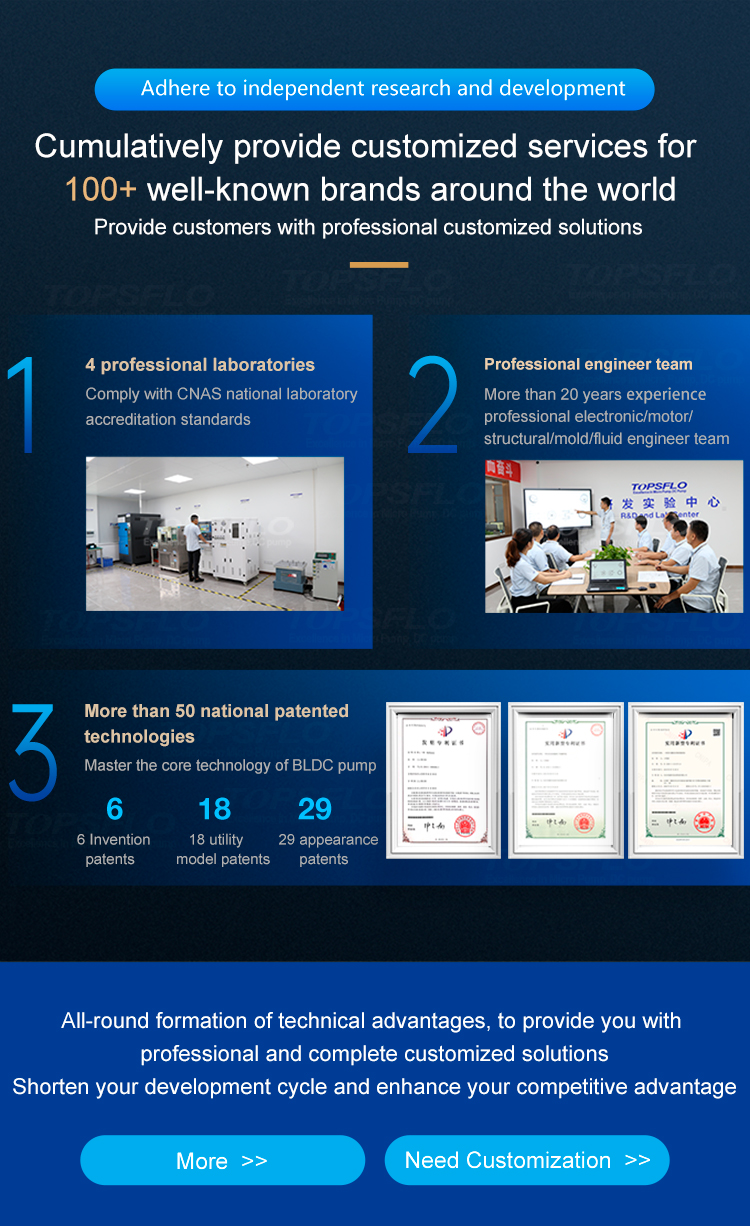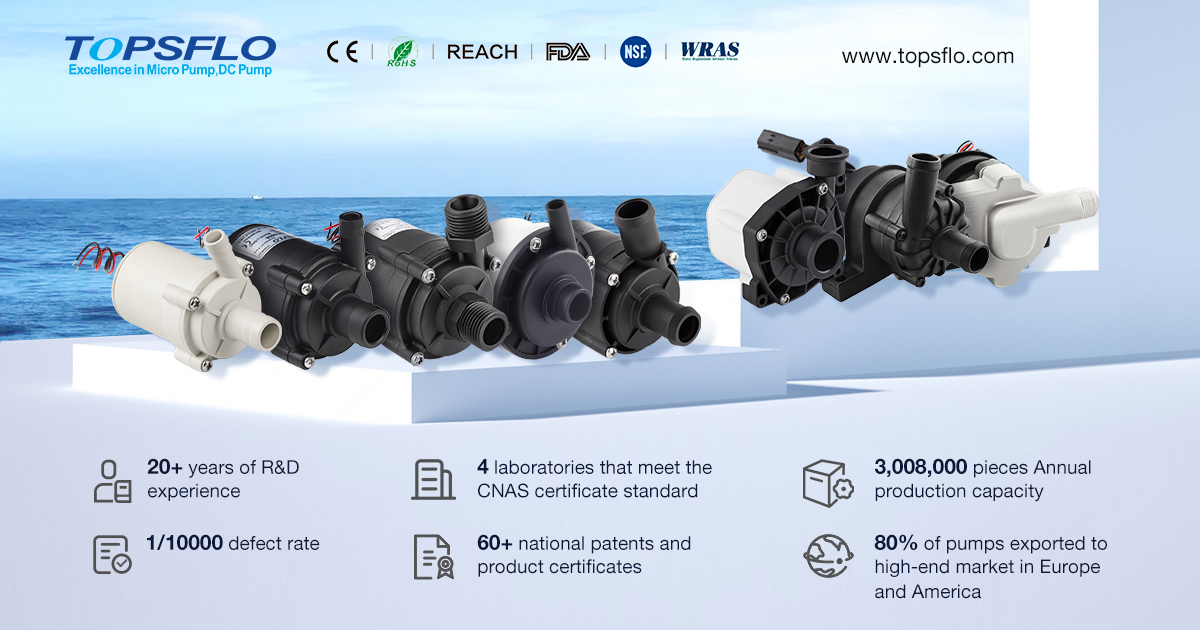 Get
Samples
&
Quotes
Report, please contact us!
| | | |
| --- | --- | --- |
| | | |
| TL-B03 Food Grade Pump | TL-C03 Water Heater Mattress Pump | C04 Smart Toilet Water Pump |
| | | |
| TL-C01-F Medical Water Pump | TL-C01-C Water Heater Pump | TL-B10 Cooling Circulation Pump |
| | | |
| B04 Hot Water Dispenser Pump | Home Energy Storage Cooling Pump | C01-D Hot Water Circulation Pump |
| | | |
| TA60 EV Charger Cooling Pump | TA50-B Car Circulation Pump | TD5 Solar DC Circulation Pump |


1.Product Features:
•.High efficiency brushless DC motor with long lifetime > 20,000hours
•.Heavy duty work,can sustain continuous 24hours work
•.All wetted materials FDA approved to be safety usage
•.IP protection level: IP68, submersible directly
•.Blocked protection

• No rotor cracking
Japan imported high-precision rotor, more wear-resistant
• No electronic failure.
The design of the electronic scheme has sufficient margin to prevent electronic failure and electrostatic breakdown.
• High batch consistency
100% full inspection process, noise batch consistency is stable at 1-2dB difference
• Certificate: CE,RoHS,FDA,REACH,WRAS,TUV IATF16949/ISO9001
• Intelligent control : PWM or 0~5V speed control , FG (RPM) signal wire


2.Our Factory

• 18 years of focus on the production of micro brushless DC pumps, 80% of the products are exported to high-end markets in Europe and America
• World authoritative quality system TUV Rheinland ISO 9001 & IATF 16949 double quality system certification
• Own property right factory, independent control of the whole process, automatic electronic wire, motor wire, water pump assembly line
• Imported intelligent equipment, automated lean production
•
Operate strictly in accordance with the TÜV Rheinland IATF 16949 & ISO 9001 quality system
•
Standard APQP quality process management
•
Advanced MES, WMS management system, traceability of the whole process
•
Stricter than the industry's 6 100% testing process standards
■ Specifications
You want it, We all have !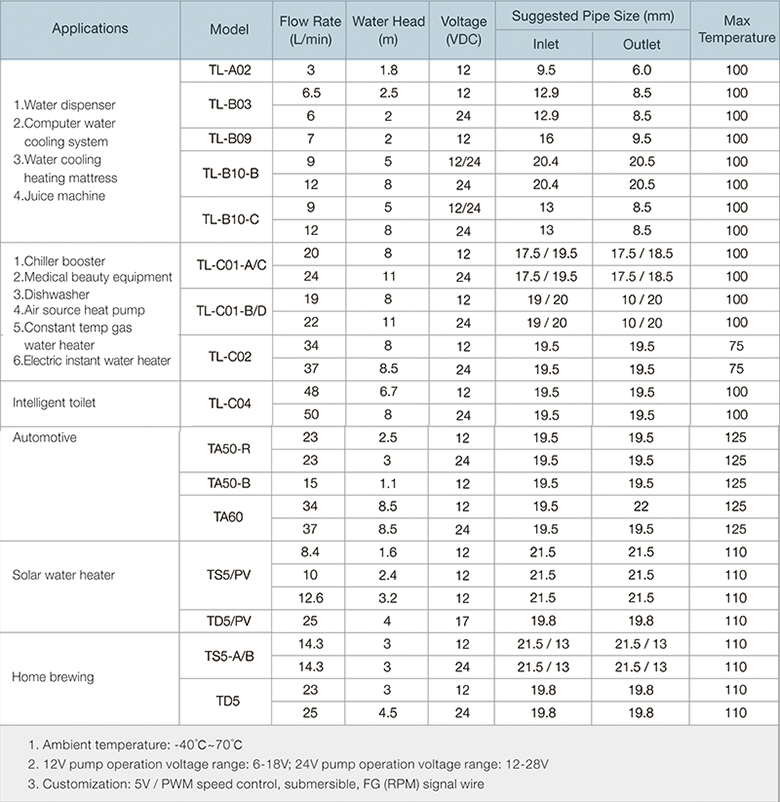 Get more information, please
contact us
!
■ Parameter
APPLICATION FIELD
Laser Cooling Patient Thermal Management
X-Ray/CRT Cooling Fuel Cell
Marine and RV Heating/Cooling High Voltage Power Supplies and Transformers
Servers & Data Center Liquid Cooling
Battery Cooling


♦Food industry

♦Automotive industry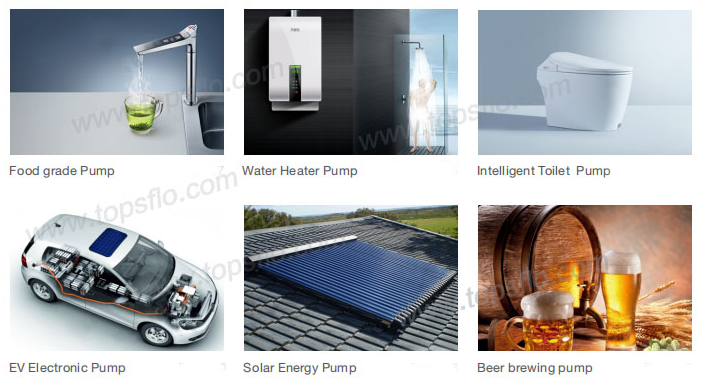 I
f you don't have one of your application areas, please contact us!