■ Overview
Our TL-B series design features micro centrifugal pumps powered by brushless DC motors. They are designed to be cool, quiet, compact and lightweight. A variety of features, including a seal-less design to prevent leakage, wide range of working voltage, stable performance, long life time, enable the pumps to meet a full spectrum of user needs, with emphasis on ease of installation, operation and maintenance.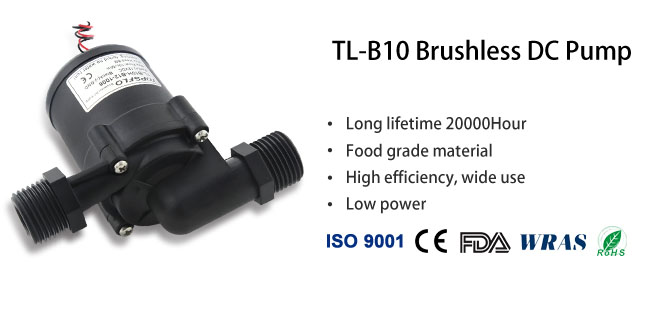 Features:


1.Advanced magnetic driving technology for static-seal, without any leakage forever
2.Motor widely voltage designed suitable for battery power supplying with peak-low voltage damply
3.Durable permanent magnetic rotor with one-off injection incorporated impeller in smooth balance
4.Heavy duty work, can sustain continuous 24 hours work
5.Special designed high efficiency closed-type impeller

6.Sustain 100°C hot water circulation
7.All wetted materials FDA approved to be safety usage
8.Low or no maintenance
9.Blocked protection
10.Polarity protection
Application: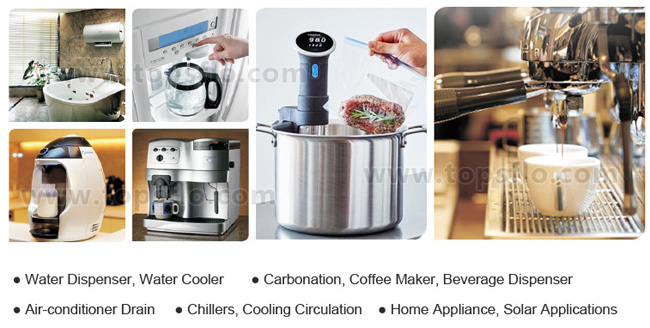 The centrifugal brushless pumps are designed for general, commercial and industrial applications. Ideal for circulation pump applications. They will pump fresh water, seawater, and other liquids that are compatible with the pumps materials and that are of similar viscosity to water.
1. Liquid transfer general purpose pumping
2. Water heating mattress pump
3. Hot water circulating system pump
4. Electronics Cooling Water Circulation Chiller Systems pump
5. Liquid filling and transfer in food, beverage processing, vending machines pump
6. Circulating systems pump
7. Cleaning equipment, purification and water treatment pump
8. Cooling pump
9. Electric cars: radiators, heaters pump
10. Automotive air conditioning pump
11. Computer CPU cooling circulation pump

Usage Note:
1.Reverse polarity is not allowed (except customized).
2.The pump if dropped or with heavy vibration do not use.
3.Liquid contain impurities or magnetic particles are not allowed.
4.Liquid temperature over 80°C is not allowed (except high temperature models).
5.Acidic or alkaline liquid is prohibited (except customized).

■ Specifications
Max Flow Rate

7L/MIN

,9L/MIN 12L/MIN

Max Static Lift

3M 5 M 8 M

Rated Voltage

12V / 24V

Impeller Type

Closed impeller

Motor Type

brushless DC motor

Liquid Temperature

-40-105°C

Pump Theory

Centrifugal pump

Ambient Temperature

-40-40°C

Media

Pure Water

Use Place

Indoor Outdoor

Working Voltage Range

6~18V or 12~28V

Noise

< 40dB

Ideal Life Time

20000 Hours

Working Mode

Continuous

OD of Inle

thread nozzles:
G1/2

OD of Outlet

thread nozzles:
G1/2

Power Supply

DC power supply, battery, solar powered

Remarks

Can't dry-running, not Self-priming
■ Parameter
Model
Product Code
Max Water Flow (L/Min)
Rated Voltage(DC)
Rated Current (A)
Max Water Head(M)
Rated Power(W)
 

TL-B10-B
TL-B10-B12-0703
7
12VDC
0.54
3
6.48
TL-B10-B24-0703
7
24VDC
0.35
3
8.4
TL-B10-B12-0905
9
12VDC
1.38
5
16.56
TL-B10-B24-0905
9
24VDC
0.65
5
15.6
TL-B10-B24-1208
12
24VDC
1.3
8
31.2
TL-B10-C24-1208
12
24VDC
1.3
8
31.2
■ Curve & Dimension
Curve: