■ Overview
TD5 Solar DC Circulation Pump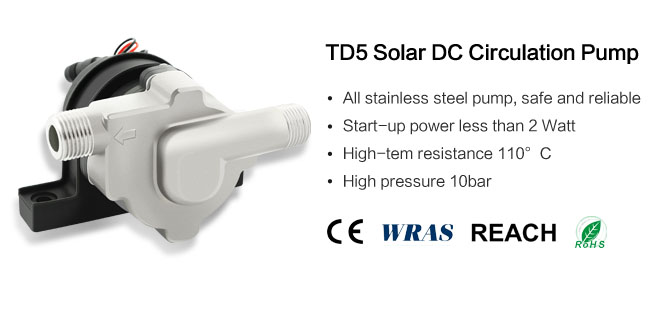 TOPSFLO TD5 pump is currently the world's only all-stainless steel solar hot water circulating pump, made of food grade stainless steel, very safe and reliable, always protect your family's health, food grade stainless steel is healthy and safe metal to our people, acid resistant, no dangerous element exudation, the medical equipment and food machinery widely used is the best example.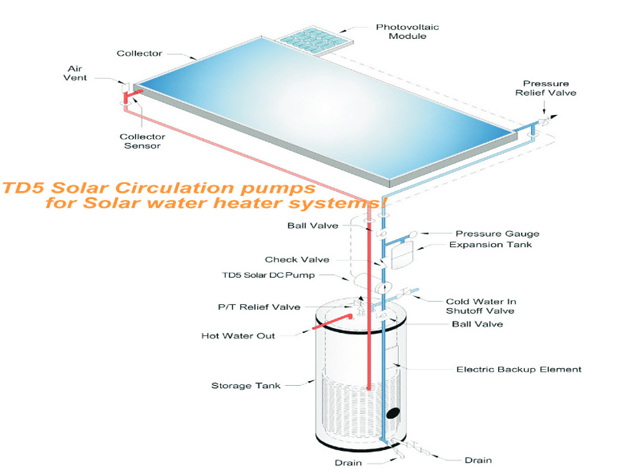 Product description

1. Directly connects to photovoltaic panel, start-up power requires less than 2 Watt
2. Ideal 5W, 10W, 15W, 25W power consumption optional for different sizes SWH systems
3. The exclusive food grade stainless steel solar DC hot water pump,keep far away Plumb danger more safe, protect your families' health
4. Operates on safe DC power, you will not expose yourself to hazardous grid power voltage
5. High efficient ECM brushless DC motor, ideal long life time 30000 hours
6. Advanced magnetic drive technology for static-seal,without any leakage for ever
7. Can run with hot water (230° F) and at high pressure(145 Psi)

Over voltage protection
When the voltage over 28V, the pump will auto-protect and shut off own power supply, when the voltage falls below 28V, the pump will restart automatically.

Over load protection function
This means that when the current is over the rated current, such as can arise if the impeller is stuck due
to debris. The pump will automatically stop to prevent damage, and will restart when the current falls again.

PV operated
For solar system loops, the TD5 Solar pump can be powered directly from a PV panel. Thesun comes up, heat builds in the solar hot water panel and at the same time electricity is made in the PV panel.The pump slowly starts with the smallest amount of current and pushes the heated water to the storage tank. It's all too simple and eliminates all controllers, thermostats and sensors.

Soft start-up
The TD5 Solar DC pump has a soft start-up feature which reduces high in-rush current. When the photovoltaic panel provides sufficient power,the pump goes through the alignment phase by turning the rotor into the position required for start-up. The processor then waits until the capacitor is sufficiently charged. This enables a start-up with minimal power (less than two watt).Cycling due to unsuccessful attempts is minimized. Even after prolonged shutdown, the
pump will start reliably .

Automatic polarity protection
Red is plus, black is minus, if wrong polarity will not damage the motor for it has the automatic polarity protection function.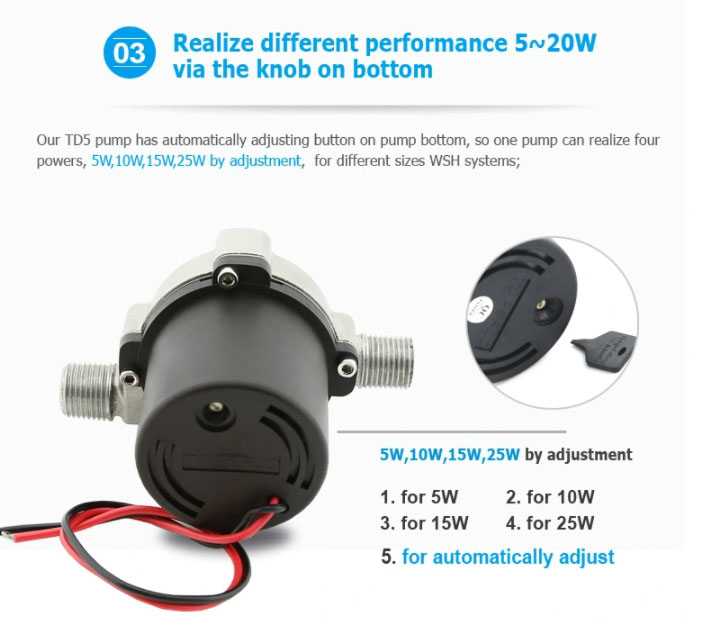 Advantages over solar pumps from EL SID Solar DC Pump and Laing D5 Solar Pump
Many of our clients also reflected application problems by using SID and Laing-D5 pumps, such as tempreature, MPPT max efficiency and so on. But they are very satisfied with ours till now since transition. Our TS5&TD5 solar pumps are developed by studying SID and Laing-D5 pumps first,
--Motor
--MPPT functions
Then optimize their weakness. For example, there exists tempreature issue due to spherical motor for Laing D5 pumps, and SID pumps do not have MPPT functions. Generally, our solar pumps have comprehend all advantages and optimize the advantages for supporting solar system at its max performance, and have been tested and applied in the market for a long time with nice feedback. I believe topsflo will be a great choice for you.
| | | |
| --- | --- | --- |
| No. | Weakness | Improvement |
| 1, Motor | tempreature issue due to spherical motor for Laing D5 pumps | High efficiency ECM brushless DC motor, reach clients' requirements in long lifetime and over all performance. |
| 2, MPPT function | SID pumps do not have MPPT functions | TD5 with MPPT function, can realize four powers, 5W, 10W, 15W, 25W automatically wIth highest efficieny. |
| 3, Structure&Design | SID&Laing D5 | More reasonable and nicer-looking |
Item NO.
Power Consumption
(W)
Max Head
(M @ 0L/min)
Max Flow
(L/min @ 0M)
TD5/PV-A17-2504-M
("M" means optional mounting fixture)

@ 5W

1.4

12

@ 10W

2.4

16.5

@ 15W

3

20

@ 25W

4

25
Performance
| | |
| --- | --- |
| No. | Strengthness |
| 1 | 24 hrs continuous work |
| 2 | Male 1/2" BSP or NBT connection |
| 3 | DC/ Battery/ solar PV powered |
| 4 | Dry-running protection, no self=priming |
| 5 | Over-voltage protection |
| 6 | Overload & Over current protection |
| 7 | Polarity protection |
| 8 | 3 phase dc motor |
| 9 | Food grade |
| 10 | Static balance |
| 11 | Can endure High temperture 220°C~240°C shoortly |

Areas of Use:
● Solar Water Heating Systems
● Air energy water heater
● Hot Water Circulation
● Solar applications

● Solar power system pump
■ Parameter
| | |
| --- | --- |
| No. | Strengthness |
| 1 | 24 hrs continuous work |
| 2 | Male 1/2" BSP or NBT connection |
| 3 | DC/ Battery/ solar PV powered |
| 4 | Dry-running protection, no self=priming |
| 5 | Over-voltage protection |
| 6 | Overload & Over current protection |
| 7 | Polarity protection |
| 8 | 3 phase dc motor |
| 9 | Food grade |
| 10 | Static balance |
| 11 | Can endure High temperture 220°C~240°C shoortly |
■ Curve & Dimension