■ Overview
Mini Brushless DC Centrifugal Pump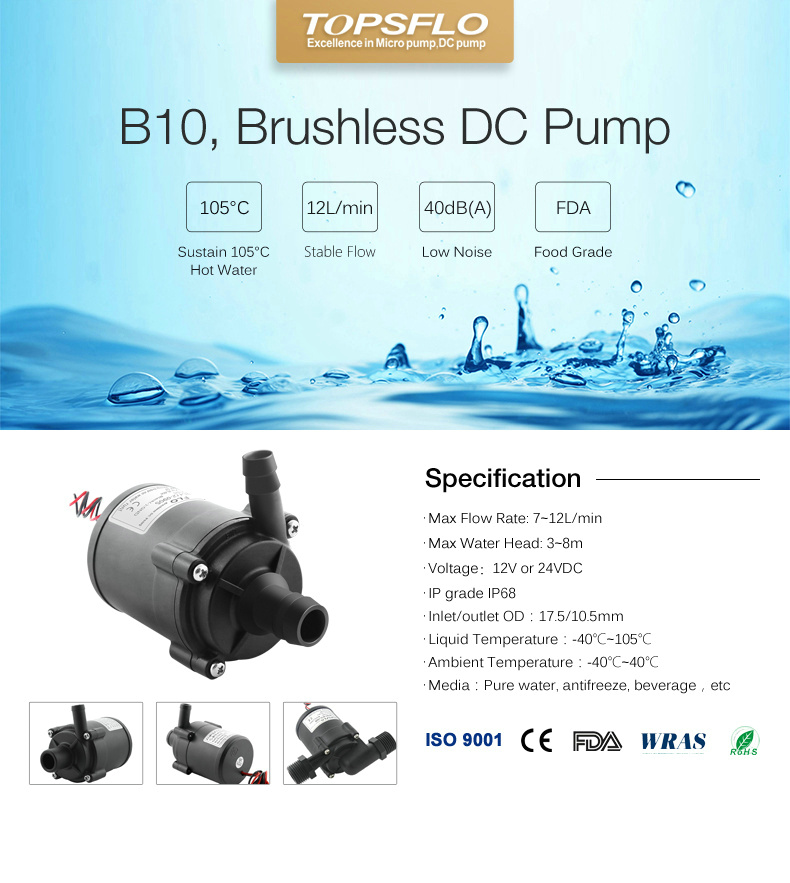 Product Features:
1.Advanced magnetic driving technology for static-seal, without any leakage forever
2.Durable permanent magnetic rotor with one-off injection incorporated impeller in smooth balance
3.Heavy duty work, can sustain continuous 24 hours work
4.Special designed high efficiency closed-type impeller
5.Sustain 100°C hot water circulation
6.All wetted materials FDA approved to be safety usage
7.Low or no maintenance
8.Can customized
9.IP protection level IP68
Protection Function

Blocked-Protection
Polarity Protection

Custom function
Over-Current Protection
Dry-running Protection"
Over-voltage protection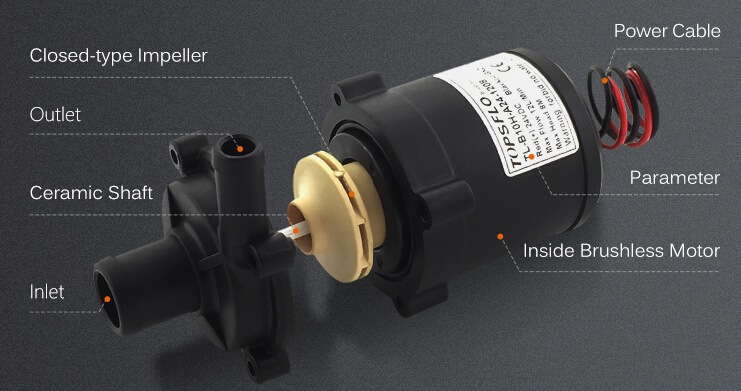 Application: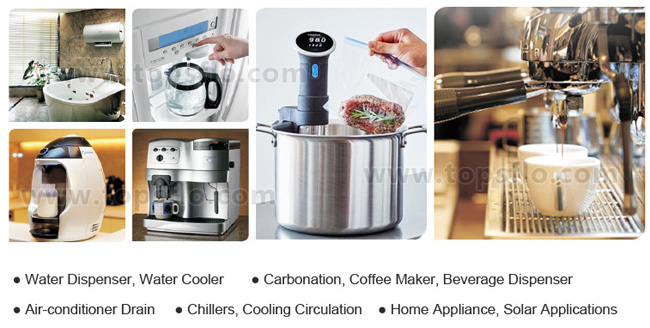 Typical Applications
• Battery cooling water pump
• Truck air conditioning cooling
• Water dispenser, Water Coolers pump
• Carbonation, Coffee Maker, Beverage Dispenser
• Air-conditioner Drain
• Chillers, Cooling Circulation,
• Home Appliance Boosting
• Evaporative coolers
Usage Note:
1.Reverse polarity is not allowed (except customized).
2.The pump if dropped or with heavy vibration do not use.
3.Liquid contain impurities or magnetic particles are not allowed.
4.Liquid temperature over 80°C is not allowed (except high temperature models).
5.Acidic or alkaline liquid is prohibited (except customized).
■ Specifications
| | |
| --- | --- |
| Max Flow Rate | 7L/min 9L/MIN 12L/MIN |
| Max Static Lift | 3M 5 M 8 M |
| Rated Voltage | 12V / 24V |
| Impeller Type | Closed impeller |
| Motor Type | brushless DC motor |
| Liquid Temperature | -40-105°C |
| Pump Theory | Centrifugal pump |
| Ambient Temperature | -40-40°C |
| Media | Pure Water |
| Waterproof Class | IP68 |
| Use Place | Indoor Outdoor |
| Working Voltage Range | 6~18V or 12~28V |
| Power Consumption | 7~32W |
| Noise | < 40dB |
| Ideal Life Time | 20000 Hours |
| Working Mode | Continuous |
| Power Supply | DC power supply, battery, solar powered |
| Remarks | Can't dry-running, not Self-priming |
For more technical information, please feel free to contact us
■ Parameter
Model
Product Code
Max Water Flow (L/Min)
Rated Voltage(DC)
Rated Current (A)
Max Water Head(M)
Rated Power(W)
B10
TL-B10-A12-0703
7
12VDC
0.54
3
6.48
TL-B10-A24-0703
7
24VDC
0.35
3
8.4
TL-B10-C12-0703
7
12VDC
0.54
3
6.48
TL-B10-C24-0703
7
24VDC
0.35
3
8.4
TL-B10-A12-0905
9
12VDC
1.38
5
16.56
TL-B10-A24-0905
9
24VDC
0.65
5
15.6
TL-B10-C12-0905
9
12VDC
1.38
5
16.56
TL-B10-C24-0905
9
24VDC
0.65
5
15.6
TL-B10-A24-1208
12
24VDC
1.3
8
31.2
TL-B10-C24-1208
12
24VDC
1.3
8
31.2
Note:

1.pump itself meet: /F,food grade
2./H type 70℃<liquid≤100℃, not H normal type liquid≤70℃
3./S type can be customized, if submersible liquid should be ≤50℃
4./PV Powered by solar panel directly
5./PWM or 0~5V speed control
■ Curve & Dimension
Curve: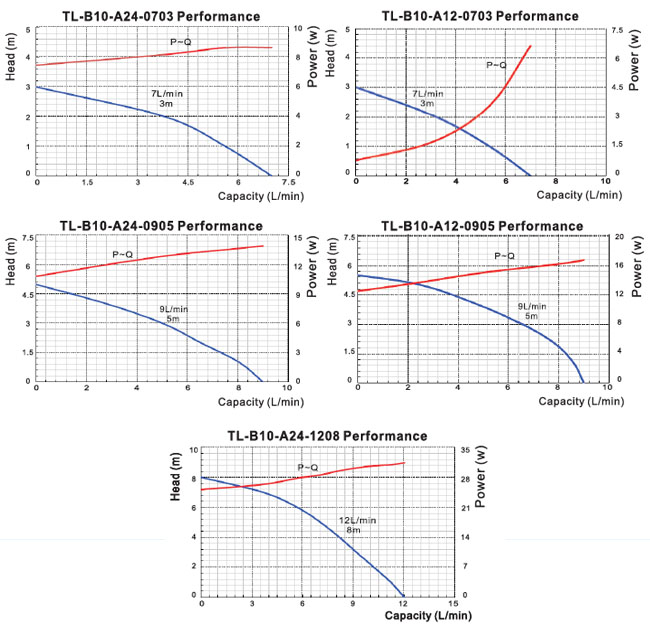 Dimension(mm)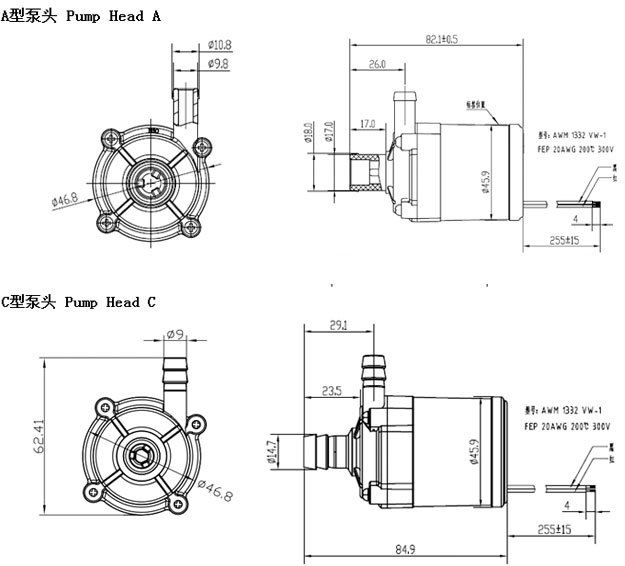 For more technical information, please feel free to contact us