What industry problems does the TOPSFLO smart toilet booster pump help internationally renowned bathroom manufacturers solve?
2022-03-17
Since its entry into the smart toilet industry in 2018, TOPSFLO Pumps has had in-depth and stable cooperation with well-known domestic and foreign brands such as ROCA, GEBERIT and COMA. And it has accumulated rich industry experience and high-end customer service experience in structural design, parameter modulation, and equipment matching in the early stage of product development.

Industry barriers appear, and innovation in the smart toilet industry is imminent

In 2018, hidden smart toilets without a tank were popular abroad. N·A, a well-known European sanitary ware manufacturer, contacted the overseas sales engineer of TOPSFLO Pumps: hoping to solve its problems in smart toilets by using small and high-efficiency miniature brushless water pumps. The problem encountered in the new project - the problem of insufficient water pressure in the pipeline leading to poor flushing. This problem is also a common problem that the entire smart toilet industry needs to solve urgently.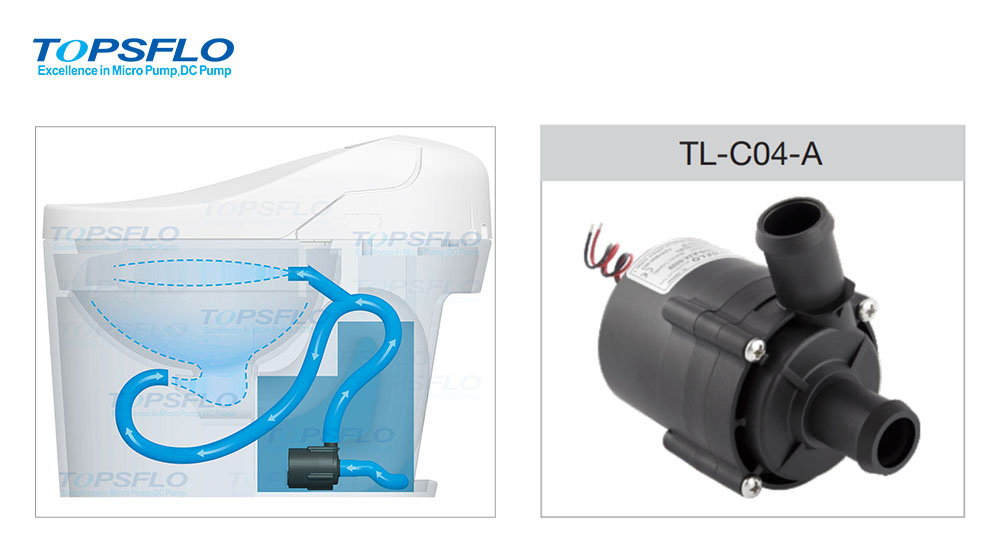 Previously, external water tanks were generally used in the industry to solve the problem of insufficient water pressure, but the external water tanks caused the size of the smart toilet to be too large, which could not meet people's increasing pursuit of simplicity and smart home in life. Innovation in the smart toilet industry is imminent.

N·A is a well-known bathroom manufacturer in Europe, with 3 production bases in Switzerland, Romania and Thailand. And design and produce smart bathroom products for internationally renowned brands such as Laufen, Grohe, Geberit, etc. As a well-known company in the industry, whether N·A can quickly make a breakthrough in this innovation is the key to its core competitiveness in the market.

Micro brushless DC pump has become the core key of the smart toilet industry

After continuous research and development and verification, N·A found that as long as the water pump reaches certain parameters, it can break through the water pressure limit. Even if no external water tank is installed, it can still have a strong impulse. Therefore, the problems of insufficient water pressure in the pipeline and external water tank are easily solved. .

However, if the installed water pump fails, it will cause the entire smart toilet to fail to operate normally, and the resulting maintenance costs and loss of brand reputation will far exceed the cost of a water pump itself. Therefore, when choosing a supplier of miniature brushless DC water pumps, N·A has very high audit standards and extremely strict quality requirements - not only have high requirements on the supplier's production scale and company strength, but also the high water pump. Quality requirements come first.

After testing more than ten models of water pumps on the market, N·A was finally selected in its "long-term life test", which has the best test effect and the most stable and reliable quality - the high-end smart toilet Booster water pump TL-C04.

TOPSFLO intelligent toilet booster pump helps customers solve industry problems

TOPSFLO intelligent toilet booster pump TL-C04 can realize 0Mpa start-up in an independent water pressure system, and the start-up time is as low as 0.1s, which is more than 5 times higher than that of water pumps with the same parameters in the industry. Impact force, avoiding flow loss to the greatest extent, allowing users on high floors and areas with low water pressure to use smart toilets to break through the water pressure limit, helping N·A to successfully solve the problem of "insufficient water pressure in pipes leading to unclean flushing".

In the follow-up stable cooperation, the high standards of product quality, the in-depth study of core technologies, and the management and control capabilities of factory automation production lines have been recognized by TOPSFLO Pumps. Long-term product batch consistency and high-efficiency service have enabled our company to gain more trust and support from customers.

As a professional manufacturer of intelligent toilet booster pumps, TOPSFLO Pump has always kept pace with the world's latest cutting-edge technologies since its establishment, based on the highest international standards, and strictly follows the German TUV Rheinland IATF16949 quality management system. With high-quality products and comprehensive solutions, we help customers achieve new breakthroughs in the smart toilet industry and achieve high-end brand power.

In the future, we will continue to take customer recognition and support as our goal and driving force, continue to focus on the R&D and manufacturing of high-end miniature brushless DC pumps, and bring higher-quality miniature pump products and solutions to more customers.