Topsflo-forging ahead to build a century-old brand of micro pump(2)
2020-11-12
Part 2 Innovation upgrading and cultivating the domestic major customer market

For production enterprises, brand confidence comes from the persistence of quality. Based on the brushless DC pump industry, TOPSFLO will develop bigger flow rate brushless DC water pump products to match heating equipment while ensuring stable and reliable quality.

In fact, TOPSFLO brushless DC pumps are produced by advanced magnetic drive technology. The liquid rotates at a high speed through the permanent magnet rotor and the static seal design replaces the traditional mechanical shaft seal. The liquid is completely isolated from the motor to avoid liquid leakage and improve product lifetime and performance. There is a built-in frequency conversion brushless DC motor, thus no carbon brush commutation, no mechanical friction heating, low power, and low temperature rise. Besides, BLDC motor can accurately feedback the target RPM, torque, etc. The heat generation and power consumption of the motor can be suppressed through precise control.

In summary, TOPSFLO pumps havs 5 major advantages:
①Large flow and high head pressure;
②Good batch consistency;
③Unique anti-hydraulic noise reduction technology, unique silent rotor, and the noise generally 3dB~5dB lower than the counterparts;
④90% imported electronic components, industrial-grade core chip in the field of world-renowned motor control; precise controlled algorithm with multiple protection functions and intelligent control;
⑤The product has passed CQC quality certification, EU CE, RoHS, REACH certification, UK drinking water safety WRAS certification, American food and drug FDA certification, NSF and other international certifications, trustworthy.
According to reports, Topsflo brushless DC pumps have been widely used in wall-hung boilers, zero cold water heaters, instant electric water heaters, air energy water heaters and other categories. They have a very high market share in the United Kingdom, France, Italy and other countries. Now it is very popularly applied in zero-cold water heater/wall-hung boiler, small household appliances and other fields, market feedback is satisfying. These series of market results achieved by TOPSFLO not only reflects the outstanding performance advantages of its products, but also the best practice for Topsflo's leaders' dream of "creating an international micro DC pump brand that originated in China but can influence the world". When TOSPFLO has intensively cultivated the European and American markets for more than ten years, Topsflo is also actively exploring the domestic market, formulating scientific and reasonable medium and long-term development plans, gradually tilting advantageous resources to the cdomestic market and ensuring support for domestic major customers, including in-time technology support, etc.

"Topsflo can guarantee to provide comprehensive solutions for major domestic customers within 3 days, and can provide door-to-door serviced by engineer team for major technical problems. Through sale team's active communication and invitated customer to test samples, now Topsflo team keeps receiveing excellent feedback from the domestic major customers . We are confident, The domestic market will be cultivated in one or two years." CEO Richard Wang affirmed.

In fact, with the increase of national per capita disposable income, even though the market economy has fluctuated in the past two years, people's pursuit of comfortable home life is unstoppable, and the development space of HVAC and comfortable home market is still promising. Richard Wang pointed out that most of the zero cold water products and wall hanging boils brands in China are high-end categories, and they have very high requirements on the quality of accessories, which suits well the positioning of TOPSFLO. Actually, some domestic first-tier brands are testing TOPSFLO water pump, and some key domestic supporting enterprises have entered the stage of small batch trial production, which will further promote the development process of TOPSFLO in the domestic market.
"Let the world enjoy silent pump" as development mission of TOPSFLO, TOPSFLO Brushless DC pump will replace the traditional AC pump in the high-tech and intelligent field with advantages such as small size, quieter and more intelligent.
It is believed that under the guidance of intelligent technology of household appliances, the continuously upgraded and innovative Brushless DC pump launched by TOPSFLO will win more customers' favor.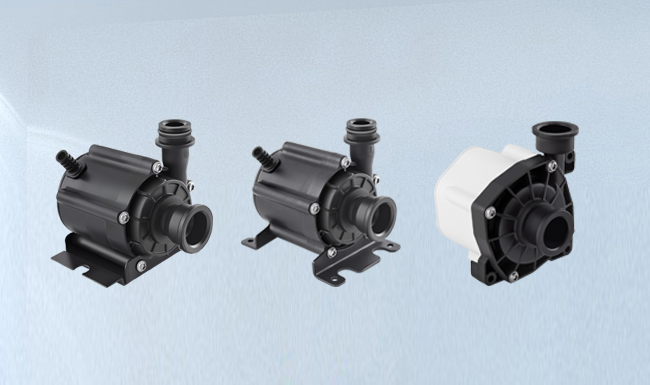 Part 3 Bring real convenience to clients /users

2020 is a year full of challenges and pressures, and the market economy was greatly impacted both domestic and abroad. Under this background, many enterprises are saving money, increasing revenue and reducing expenditure to seek survival opportunities, but TOPSFLO is expanding the market layout, further making breakthrough upgrade. TOPSFLO strategic policy in 2020 is to increase the input of brushless DC pump in terms of production capacity while ensuring the stable supply of major customers. It plans to expand one industrial line and realize the annual output capacity of brushless DC pump till 4 million units. In terms of technology, a professional technical team has been established to constantly overcome the technical difficulties in the intelligent upgrade of brushless DC pump, and strive to realize the intelligent 5G of brushless DC pump (substantive research has been carried out at present, and product verification stage is being introduced). In terms of the market, we plan to increase the cultivation and support of the domestic market (80% of our products are exported to the European and American markets at present, and we aim to achieve 50% of the domestic market exclusively by 2020).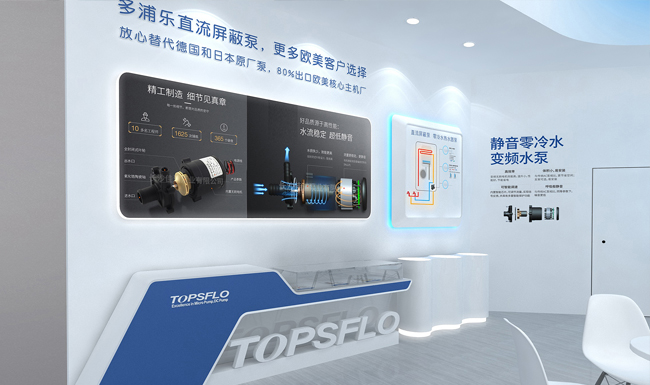 Richard Wang believes if a company wants to be stable and far-reaching in the industry, we must do well in five aspects:
① Always focus on the original field. For TOPSFLO, it is about doing the best with the brushless DC pump that we are good at.
② Broaden our horizons and patterns, and we can't just focus on immediate benefits and we refuse to fight a "price war."
③ Insight into customers' needs. TOPSFLO technical support accompanies the entire process of customers' projects, intervening from the start of the customers projects, helping customers dig out potential invisible needs, and providing customers with a full range of technical support.
④ Embrace challenges actively and constantly improve ourselves. Just as TOPSFLO applied for TUV Rheinland's IATF 16949 quality system certification process, this is not only a certification of products quality, more importantly, it continuously improves our own management level. And under the guidance of this quality system, we will realize more strict control in procurement, R&D, manufacturing and other aspects to ensure products quality.
⑤ Persist in technology leadership. TOPSFLO invests over 15% of the turnover in research and development every year, so as to continuously introduce advanced research and development equipment. At present, TOPSFLO has established a national laboratory that meets CNAS standards, and has introduced highly skilled personnel from coastal and developed areas. The continuous investment in talents and equipment has enhanced the competitiveness of our products in the market.
Next, TOPSFLO also hopes to work with more quality and brand-focused customers to bring users a better life experience. Because only those partners who value their own brand and do not reduce product quality due to any benefits, can go steadily and farther together with TOPSFLO, can bring real convenience to users, and can realize the "three wins" between "enterprise-customer-user" .
Richard Wang points out that in the future, TOPSFLO will unswervingly continue to make efforts in the field of micro brushless DC pumps, strictly control product quality, and make customers and users worry-free, and maintain industry leadership in terms of production, delivery and service, and satisfy customers with professional and efficient services. TOPSFLO also hopes to join forces with more customers who really value research and development, to bring users a better life experience and jointly promote the high-quality development of the heating industry !