■ Overview
The TM30B offer multiple component configurations allowing them to be used for either vacuum operation, pressure operation, or alternating vacuum and pressure operations.The innovative, compact design incorporates leading edge technologies that allow it to operate harder, quieter and longer, reliabler, highly efficient.
Features:
1.Highest Performance/Size Ratio
Innovative and efficient engineering designs enable the TM30 Series to push the performance envelope in a lightweight, compact size.
2.Performs Quieter
Optimized head, chamber, and flow path reduce noise without compromising performance.
3.Lasts Reliably Longer
Using the advanced diaphragm elastomer and superior brushless motor design sets the highest benchmark for service-free operation that exceeds 10,000 hours.
4.Uncontaminated flow
no contamination of the media due to oil-free operation
5.Little vibration
Because of leading edge technologies, top quality bearing, superior brushless motor
6.High level of gas tightness
Thanks to stress-optimised structured diaphragm, newly-designed valves and sealing systems, precise placement of the pump head
7.Extreme chemical resistance
The use of chemically resistant materials optional such as FFPM, PTFE, FPM or other material combinations for the parts which allows the corrosive gas to be pumped.
8.Optimal solution for your application
A wide standard range of materials, motors , voltages configurates multiple components system selected


Wetted material options:
1.Optional membrane materials:
PTFE for corrosive air,like acid, alkali air, ozone etc.
2.Optional valve materials:
FPM for corrosive air, like acid, alkali, ozone,etc.


MODEL CODE FOR EASY ORDERING
The model code is identical to the order number,it is made up as follows:


H Motor- Brushless DC motor, lifetime 10000hours

(Note: other lifetime choices also available: A Motor -3000hours Premium duty brushed; B Motor -1500hours normal brushed ,C or D Motor- 15000hours coreless brushless

Application:
The versatility of TOPSFLO pumps allows a wide field of applications to be covered. Over many years our pumps have proved themselves in the following areas:
Industrial pressure and vacuum applications
Portable Analytical Instruments
Medical Diagnostic Equipment
Air Quality Sampling Monitors
Respiration Monitors
Gas or Odor Leak Detectors


TOPSFLO Diaphragm Gas Pump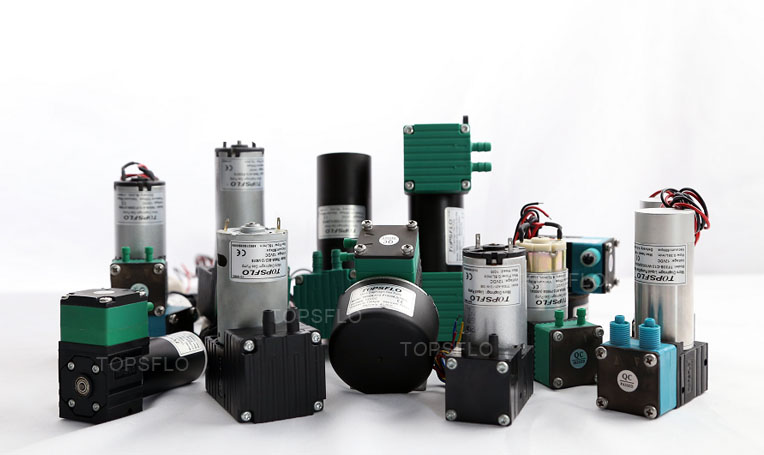 TOPSFLO Diaphragm series gas/liquid pumps are the perfect combination of form and function. The use of a special diaphragm allows the pump to transfer both air and liquid efficiently. The compact lightweight unit offers optimum sizing for analytical equipment.

Ease of integration - Equipped with compact brushed or BLDC motors and suction/discharge ports that can be mounted in any configuration, Diaphragm series is a 'drop-in' upgrade for any competitive vacuum pump.
Increase device portability
- Miniature 12/24 VDC motors combined with lightweight corrosionresistant materials promote increased portability of your instrument.
Reduce system noise
- TOPSFLO Diaphragm pumps employ several proven methods for noise reduction including; structured valve design and enhanced diaphragms for liquid or gas, enlarged bearings for smooth rotation, and external vibration dampeners for the most critical applications.
Reduce maintenance costs
- Manufactured under strict TUV ISO9001 / TUV IATF16949 quality standards and assembled with the most chemically-inert materials, TOPSFLO Diaphragm pumps series are built for the life of your system.
Simplify system designs
- Diaphragm pumps the one pump to do it all. Whether pumping gas, liquid, or being used for vacuum or compression, is the most versatile pump for your system.
Driven by an adjustable speed, brushless DC motor; fluid flow rates can be regulated and matched to the parameters in the customer's pump system. Optimize a Diaphragm pumpseries to your OEM performance needs, with spec-driven configurations, materials, and motors available through our engineer-to-engineer project pump process.
>> Suction of mixed gas / liquid media >> Self priming >> Low power consumption
>> High efficiency >> Compact design >> Reduced pulsation
>> Bubble free media transfer >> Oil-less >> Low sound level
>> Long lifetime >> Lightweight
Typical Applications:
>>Ink Jet Printers
>>Diagnostic Workstations
>>Fuel Cells
>>Analytical & medical applications
>
>
Gas detector
>>
Beauty Equipment
>>Battery operated systems
>> Medical device
>>

Pressure and vacuum applications
>>Nasal aspirator
>>Fireplace
For product catalogs and quotes, please contact us!
■ Specifications
| | | |
| --- | --- | --- |
| 1 | Motor Type | Brushless DC motor |
| 2 | Max flow rate | 4.5L/min |
| 3 | Max pressure | 130Kpa, Max vacuum: 65Kpa |
| 4 | Voltage | 6V/12V /24V |
| 5 | Ideal Life Time | 10000 Hours |
| 6 | Working Mode | Continuous or Interrupt |
| 7 | Functions | Can dry-running, Self-priming |
| 8 | Pump Theory | Diaphragm pump |
| 9 | Ambient Temperature | 41 to 158 F(5 to 70C) |
| 10 | Use Place | Indoor |
| 11 | Media: | Most Gases |
| 12 | Noise Class form 1M | 50dB /Max |
| 13 | Inlet | OD 4.9mm/ID 2.8mm |
| 14 | Outlet | OD 4.9mm/ID 2.8mm |
| 15 | Hose suggestion: | ID 4.0mm |
| 16 | Dimension | 65mm*54mm*75mm |
| 17 | Weight | 350 g |
| 18 | Materials | pump head Nylon membrane EPDM / PTFE valve EPDM / FPM |
■ Parameter
| | | | | | | | |
| --- | --- | --- | --- | --- | --- | --- | --- |
| Model | Pressure Pump | Vacuum Pump | Rated Voltage | No-load Current | Max Pressure | Max Vacuum | Max Flow |
|   | (Item Number) | (Item Number) | (Vdc) | (mA) | (KPa) | (KPa) | (L/min) |
| TM30B-H | TM30B-H12-P13004 | TM30B-H12-V6504 | 12 / 24 | 200 | 130 | -65 | 4.5 |
■ Curve & Dimension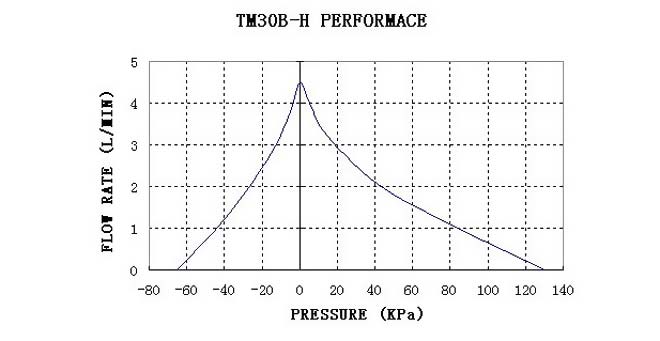 Dimension: