Who surprised me? --TOPSFLO birthday relay, passing warmth and love
2017-11-30
For TOPSFLO(HIGH-END MICRO DC PUMP LEADER), the fourth quarter is really a very exciting season, not only it's the company's peak sales season, orders continued to increase; the company will move into the new much bigger offices and factories at this December; the most happy thing is more than 70% of the company colleagues are fourth quarter's birthday!
Today is TOPSFLO production planning department Xiaojuan's birthday. She is a model worker in the company, precise and efficient, serious and responsible, and devoted to her work that even forgot her own birthday. TOPSFLO has always been concerned about the staff's spare time life, dedicated to humanistic care and team building. The HR department made a list for all staff's birthday at the beginning of the year, and published in the company, to let each one remember who & when is the next birthday after his/her own, and to prepare cards, birthday gifts and birthday envelopes for the next colleague's birthday(All the expenses are financed by the company). Early in the day of birthday, to send the gift and a red envelope to the hand of the birthday one , and take photos for him/her and published in the company, all of the colleagues will send the most sincere and best wishes to him/her! This small action of birthday relay, let every employee of TOPSFLO deeply felt the care and love from the company and colleagues, especially for such colleagues as Xiaojuan, so serious & busy on work that even forget her own birthday, it's a surprise for them!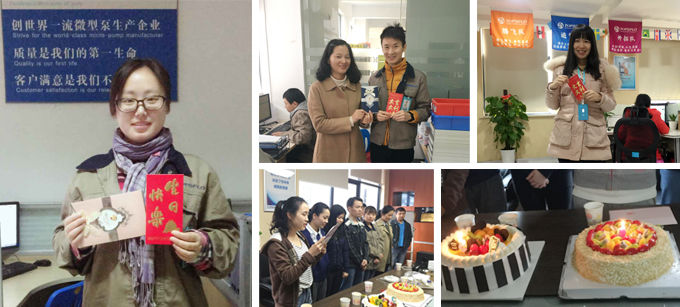 At the end of the month, the company will gather all management staffs to have dinner or a birthday party to celebrate birthday for this month birthday staff, make a wish, eat cake, everyone enjoy the food while chatting, release of their own nature, very happy, also greatly enhanced the relationship between the colleagues.

TOPSFLO is like a big family, each member is deeply in love with this family, the company also do its best to give staff meticulous humane care, to realize the collective growth of employees and enterprises, and increase employee's happiness index! This is why the new colleagues of TOPSFLO are amazed at it's low employees turnover rate, 90% staff in TOPSFLO are worked for more than 4 years, and cautious & conscientious, dedication & hard work. Not because of the high salary, more because of the warmth and love of the work atmosphere!
Happy birthday to all the colleagues of TOPSFLO who are going to celebrate their birthday, happy family, good luck! Happy work, earnest life, join hands with TOPSFLO to create a better tomorrow!