■ Overview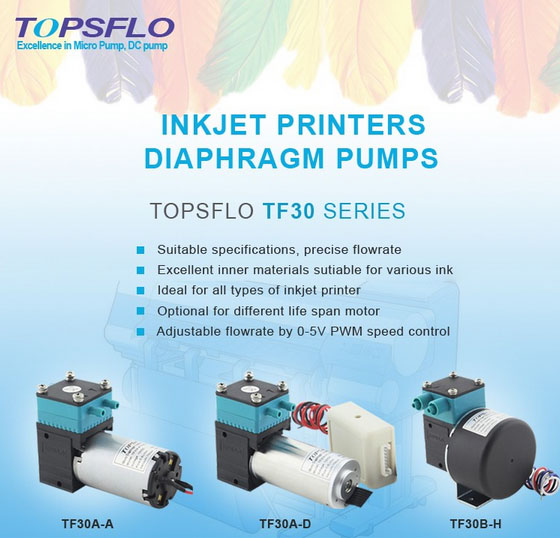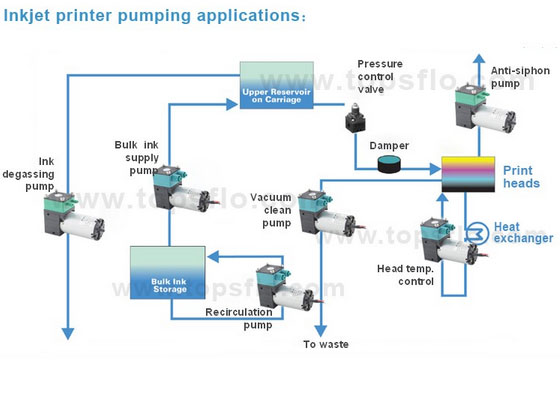 Features:

1.Excellent Materials Suitable for Various Ink
• Ink types we can handle include UV cured, titanium dioxide pigmented, silver and other metal particles,FDA/NSF approved, security, in addition to the more traditional water, and solvent based inks.
• For corrosive inks, choose among wetted parts of Nylon, PTFE, PVDF, peroxide-cured EPDM, FFPM, FPM, PP, PPS, 316 stainless steel and many others.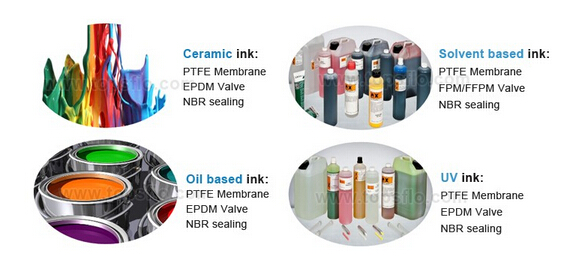 2.Ideal for All Types of Inkjet Printers

♦ Art graphcs printers ♦ Coding & Marking printers ♦ Inkjet printing machine
♦ CIJ Small character printer ♦ UV large format printers ♦ Flatbed ink jet printers etc.


3.Optional for Different Life Span Motors
Long life span ink pump system
-- The foundation of reliable printers
Motor is to a pump what heart is to a person. Compared with (some other brand) markets common pumps, TOPSFLO is featured with the following advantages.
♦

Optional motor types as above
♦ Longer Lifetime
♦ less electromagnetic interference
Equiped with anti-electromagnetic interference capacitors, Topsflo pumps cause little interference to your facility.
♦ less temperature rise
Are you bothered if pump gets heat soon when it's working in your facility? Topsflo adopts the most advanced technology as KNF does, the pump won't get much heat during working,especially outside controller models.
♦ Adjustable flowrate by 0-5V PWM speed control
MODEL CODE FOR EASY ORDERING
The model code is identical to the order number,it is made up as follows: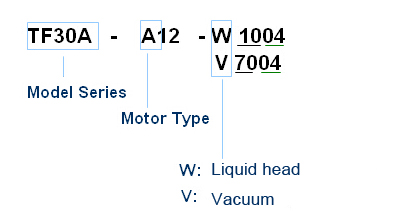 A Motor- Premium duty brush DC motor, lifetime 3,000hours
(Note: other lifetime choices also available: B Motor -1500hours normal brushed; C or D Motor- 15000hours coreless brushless; H Motor- 10000 brushless.)



■ Specifications
| | | |
| --- | --- | --- |
| 1 | Motor Type | Brush DC motor |
| 2 | Max flow rate | water:1L/Min |
| 3 | Water lift | ≥10M , Max vacuum: 60kpa,70Kpa |
| 4 | Voltage | 6V/12V/24V |
| 5 | Ideal Life Time | 3000 Hours |
| 6 | Functions | Can dry-running, Self-priming |
| 7 | Pump Theory | Diaphragm pump |
| 8 | Ambient Temperature | 41 to 158 F(5 to 70C) |
| 9 | Use Place | Indoor |
| 10 | Media: | Most Liquids and Gases |
| 11 | Noise Class form 1M | 50dB /Max |
| 12 | Working Mode | Continuous or Interrupt |
| 13 | Inlet | OD 4.8mm/ID 2.6mm |
| 14 | Outlet | OD 4.8mm/ID 2.6mm |
| 15 | Hose suggestion: | ID 4.0mm |
| 16 | Dimension | 75.5mm*30.8mm*54.5mm |
| 17 | Weight | 200 g |
| 18 | Materials | pump head Nylon, membrane EPDM, valve EPDM |
■ Parameter
Model  
Liquid Pump
Rated Voltage
No-load Current
Max Head
Max Vacuum
Max Flow
(Item Number)
(Item Number for mix-usage)
(A)
( M )
(KPa)
(L/min)
TF30A-A
TF30A-A01-12-W101
12
0.4
≥10M
-60
1
TF30A-A01-12-W1006
12
0.4
≥10M
-70
0.6

TF30 Series ink Pump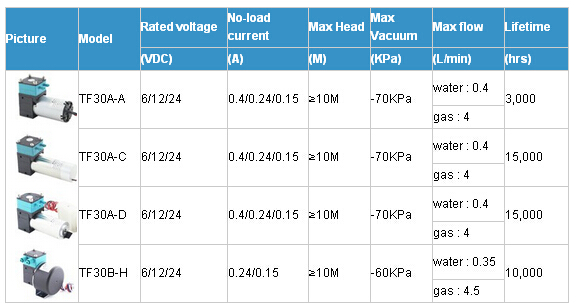 ■ Curve & Dimension
Dimension: