■ Overview
TOPSFLO micro diaphragm liquid /vacuum pumps are based on a simple principal,the circular power from the motor is converted into oscillating movement by aneccentric, which moves up and down its central point, this motion is then transferredto a diaphragm by means of a connecting rod, an elastic diaphragm, which in conjunction with an inlet and outlet valve creates a pumping action.

The TF30A Series offers multiple component configurations allowing them to be used for either vacuum operation, liquid transfer, or alternating operations.The innovative, compact design incorporates leading edge technologies that allow it to operate harder, quieter and longer, reliabler, highly efficient.

TF 30A pumps can be mounted in any position and can deliver up to 400 ml/min depending on the model and will operate against pressures of up to 1 bar.


>> Suction of mixed gas / liquid media >> Self priming >> Low power consumption
>> High efficiency >> Compact design >> Reduced pulsation
>> Bubble free media transfer >> Oil-less >> Low sound level
>> Long lifetime >> Lightweight

---
Ease of integration - Equipped with compact brushed or BLDC motors and suction/discharge ports that can be mounted in any configuration, Diaphragm series is a 'drop-in' upgrade for any competitive vacuum pump.
Increase device portability
- Miniature 12/24 VDC motors combined with lightweight corrosionresistant materials promote increased portability of your instrument.
Reduce system noise
- TOPSFLO Diaphragm pumps employ several proven methods for noise reduction including; structured valve design and enhanced diaphragms for liquid or gas, enlarged bearings for smooth rotation, and external vibration dampeners for the most critical applications.
Reduce maintenance costs
- Manufactured under strict TUV ISO9001 / TUV IATF16949 quality standards and assembled with the most chemically-inert materials, TOPSFLO Diaphragm pumps series are built for the life of your system.
Simplify system designs
- Diaphragm pumps the one pump to do it all. Whether pumping gas, liquid, or being used for vacuum or compression, is the most versatile pump for your system.

Driven by an adjustable speed, brushless DC motor; fluid flow rates can be regulated and matched to the parameters in the customer's pump system. Optimize a Diaphragm pumpseries to your OEM performance needs, with spec-driven configurations, materials, and motors available through our engineer-to-engineer project pump process.

MODEL CODE FOR EASY ORDERING
The model code is identical to the order number,it is made up as follows: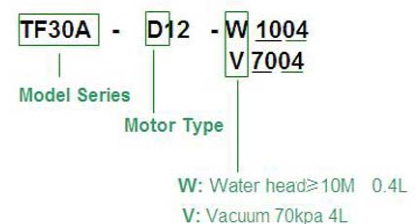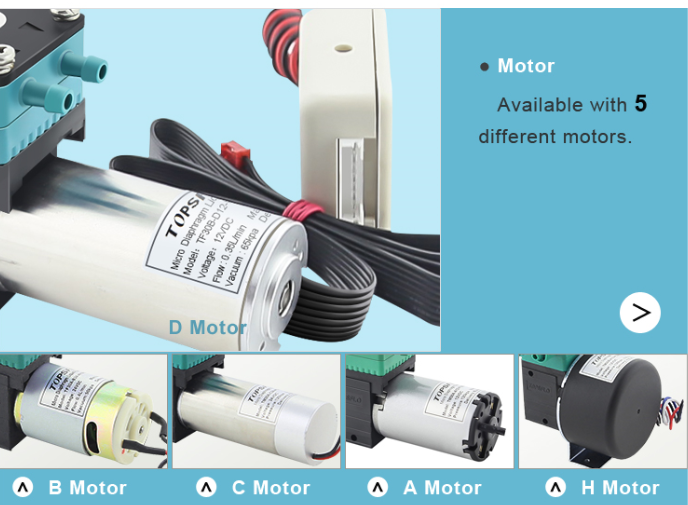 D Motor- Coreless Brushless DC motor with outer controller , lifetime15000hours
(Note: other lifetime choices also available: A Motor -3000hours Premium duty brushed; B Motor -1500hours normal brushed; C Motor- 15000hours coreless brushless; H Motor- 10000 brushless.)

Application:
The versatility of TOPSFLO pumps allows a wide field of applications to be covered. Over many years our pumps have proved themselves in the following areas:
Industrial vacuum applications
Portable Analytical Instruments
Medical Diagnostic Equipment
Environmental/water treatment
Food/ toxicology
Laboratory
Cleaning industry
Printing
Fireplace


■ Specifications
| | | |
| --- | --- | --- |
| 1 | Motor Type | Brushless DC motor |
| 2 | Max flow rate | water:0.4L/Min, gas:4L/Min |
| 3 | Water lift | ≥10M , Max vacuum: 70Kpa |
| 4 | Voltage | 6V/12V/24V |
| 5 | Ideal Life Time | 15000 Hours |
| 6 | Flow Rate Regulation | speed adjustment |
| 7 | Pump Theory | Diaphragm pump |
| 8 | Ambient Temperature | 41 to 158 F(5 to 70C) |
| 9 | Use Place | Indoor |
| 10 | Media: | Most Liquids and Gases |
| 11 | Noise Class form 1M | 50dB /Max |
| 12 | Working Mode | Continuous or Interrupt |
| 13 | Inlet | OD 4.8mm/ID 2.6mm |
| 14 | Outlet | OD 4.8mm/ID 2.6mm |
| 15 | Hose suggestion: | ID 4.0mm |
| 16 | Dimension | 80mm*31mm*58mm |
| 17 | Weight | 260 g |
| 18 | Materials | pump head Nylon membrane EPDM / PTFE valve EPDM / FPM |
| 19 | Functions | Can dry-running, Self-priming |
■ Parameter
Model  
Liquid Pump
Vacuum Pump ( only vacuum reference TM30A-C/D )
Rated Voltage
No-load Current
MaxHead
Max Vacuum
Max Flow
(Item Number)
(Item Number for mix-usage)
(Vdc)
(A)
( M )
(KPa)
(L/min)
TF30A-D
TF30A-D12-W1004 (outside controller)
TF30A-D12-V7004 (outside controller)
6 /12 / 24
0.4/0.24
/0.15
≥10
-70
water:0.4 gas: 4
■ Curve & Dimension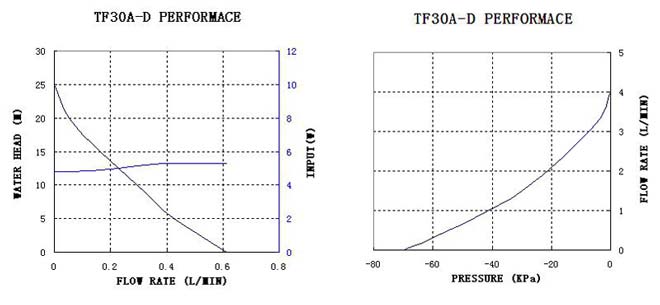 Dimension: