■ Overview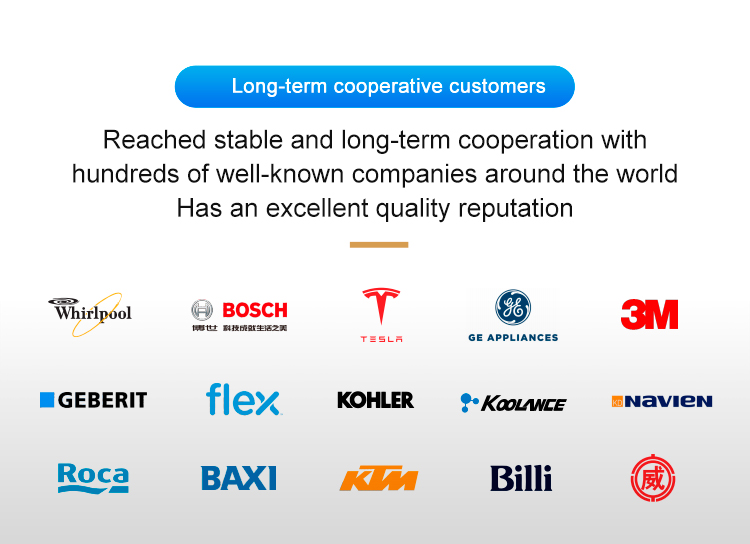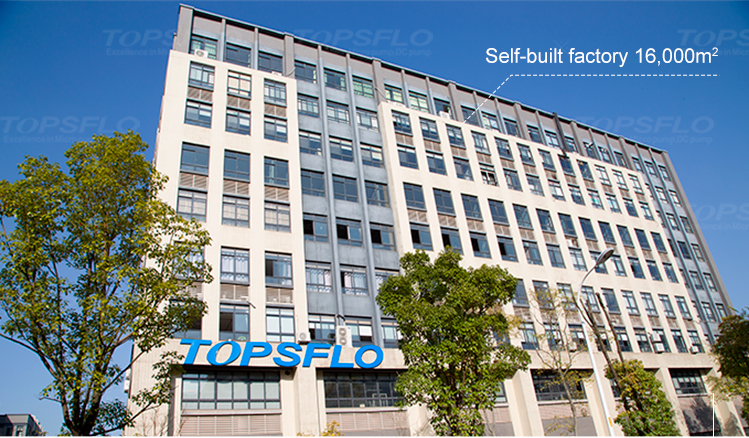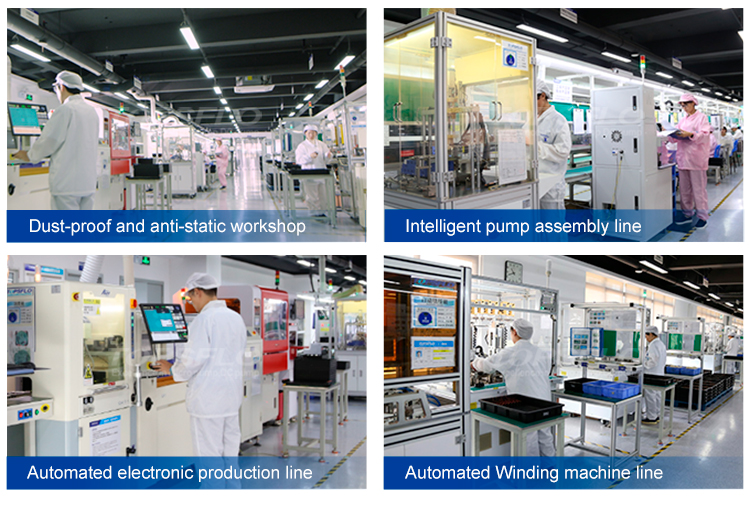 About TOPSFLO Factory

♦ 16000㎡ modern factory with its own physical property rights, ESD anti-static control dust free workshop,100+ sets of professional imported equipment
♦ 4 major professional and precision laboratories that meet the CNAS national laboratory accreditation standards
♦ More than 50 patents in the micro water pump industry, strong research and development strength, and master advanced industry technology
♦ Complete certification, passed CE, ROHS, REACH, WRAS, Food Grade and other certification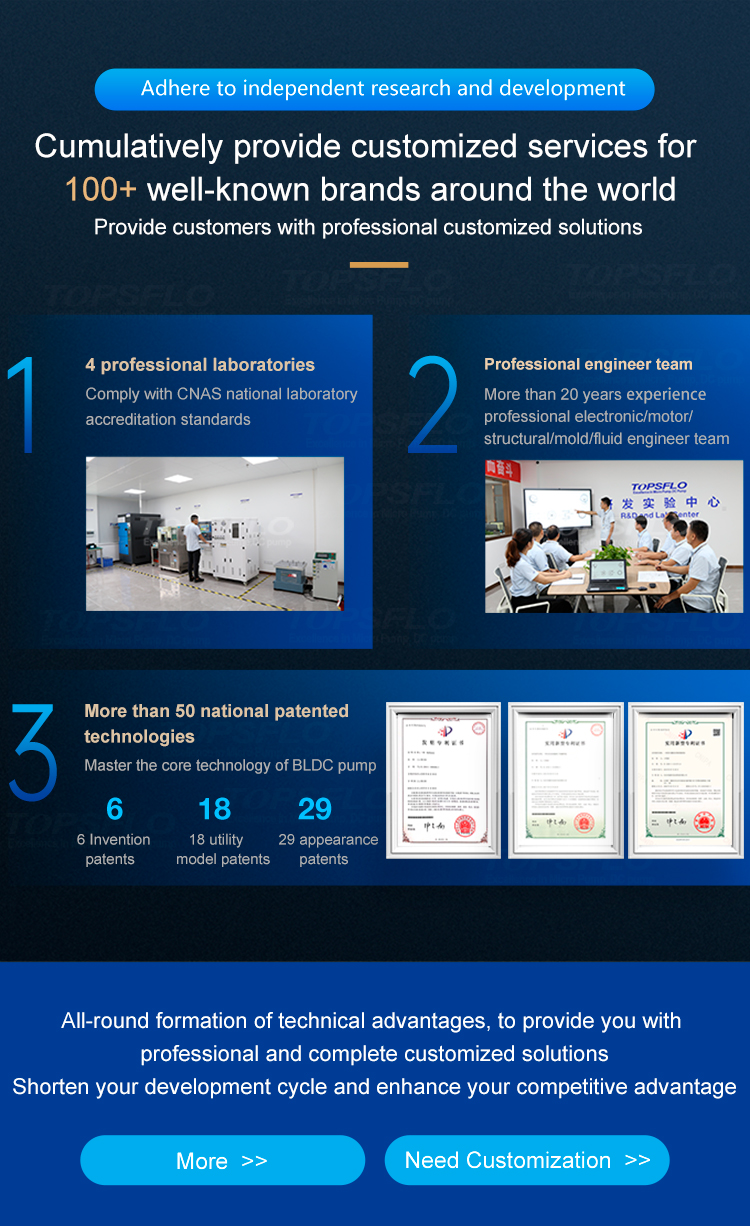 Get
Samples
&
Quotes
Report, please contact us!
Our TL series design features
micro centrifugal pumps
powered by brushless DC motors. They are designed to be quiet, compact and lightweight. A variety of features, including a seal-less design to prevent leakage, wide range of working voltage, stable performance, long life time, food grade material, high-temperature resistance.
Features:
♦
Precision temperature control - TL series unique dual bearing system reduces heat generation and helps your system maintain temperature accuracy.
♦
Reduce system size - TL series canned motor design offers the most compact package available.
♦
Extend system life - Manufactured under strict TUV ISO 9001/IATF16949 quality standards and assembled with the most chemically-inert materials, TL series life will typically exceed 30000hours.
♦
Reduce system noise - With documented sound levels at 40 dB or lower, TL series allows for whisperquiet operation.


More Features:
•.High efficiency brushless DC motor with long lifetime 20,000hours
•.Heavy duty work,can sustain continuous 24hours work
•.All wetted materials FDA approved to be safety usage
•.IP protection level: IP68, submersible directly
•.Blocked protection

• No rotor cracking
Japan imported high-precision rotor, more wear-resistant
• No electronic failure.
The design of the electronic scheme has sufficient margin to prevent electronic failure and electrostatic breakdown.
• High batch consistency
100% full inspection process, noise batch consistency is stable at 1-2dB difference
• Certificate: CE,RoHS,FDA,REACH,WRAS,TUV IATF16949/ISO9001
• Intelligent control : PWM or 0~5V speed control , FG (RPM) signal wire

Application:

Water dispenser Cooling system
Water cooling heating mattress Juice machine
Chiller cooling Medical beauty equipment
Dishwasher Water heater
Electric instant water heater Intelligent toilet
Automotive Solar water heater
Home brewing Liquid transfer general purpose pumping
Medical device 3D laser printer
EV charger E-mobility chargers
Home energy storage cooling Solar Inverter Cooling
More
Fuel cells
:
Cogeneration systems (cooling and circulation)
Medical
:
Biochemical analysis, Cooling systems, Patient temperature management medical equipment, Cooling for laser treatment
Physical/chemical analysis
:
Thermostats, Pure water equipment, Different types of analyzers
Photo
:
Automatic film developing machines, X-ray film developing machines
Semiconductors
:
Semiconductor cooling systems
Surface treatment
:
Small plating machines
Solar power systems
:
Electric water heaters, Solar battery heat collectors,Solar hot water circulation
Electric cars
:
Radiators, Heaters,

Air conditioning circulation system, E-mobility chargers ,EV charger



Function

(
itself Comes with or customized function
)
Blocked-Protection
Polarity Protection
Over-Current Protection
Dry-running Protection
Over-voltage protection



■ Specifications
You want it, We all have !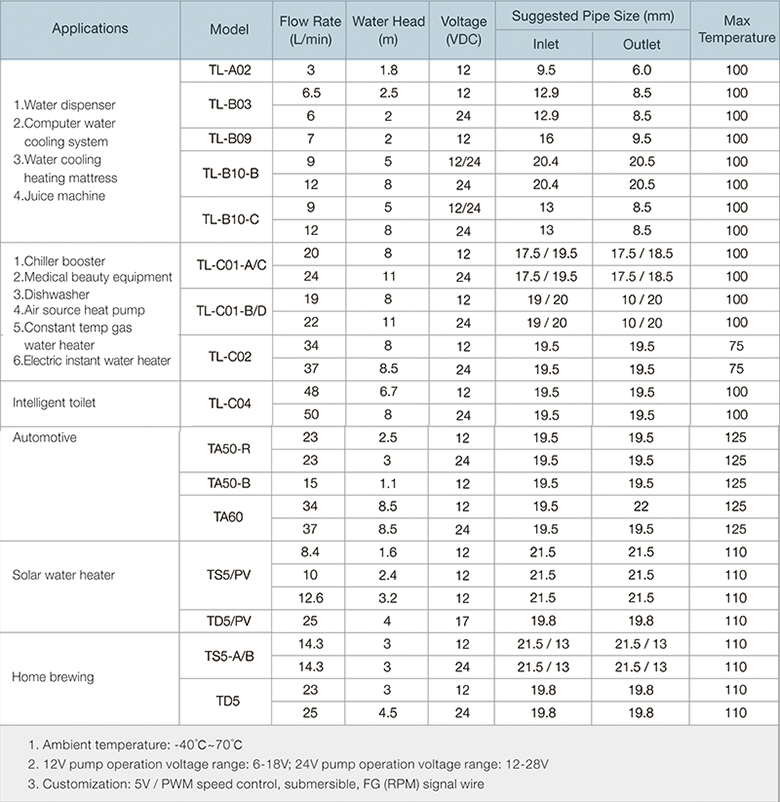 Get more information, please
contact us
!
■ Parameter
Get technical information, please feel free to contact us.