TOPSFLO warm mattress pump with ultra low noise, established industry standards & barriers
2019-06-26
Healthy sleep is a new requirement of modern life. As people become more aware of improving their sleep quality, warm mattresses are becoming more and more popular. At present, domestic and foreign warm mattress manufacturers are all in full bloom, in addition to price and quality, the mute technology will be the key to winning over consumers. Water pump as the core component of the mattress, its noise will directly determine the finished product.

Recently, A well-known Korean manufacturer of water heating mattresses requested TOPSFLO to do detail noise contrast testing of their pumps. For the warm mattress industry has very high noise requirements, good batch consistency and high standards of <30-35dB @ 0.1M, so except TOPSFLO, almost no other pump manufacturers can meet the industry high standards requirements.

TOPSFLO B03,B09 mattress water pump PK foreign original pump noise

This test selected three models: foreign original pump, TOPSFLO B09, TOPSFLO B03


Part 1 - Products specification comparison

| | | | | | |
| --- | --- | --- | --- | --- | --- |
| Items | Foreign original pump | TOPSFLO B09/S #1 | TOPSFLO B09/S #2 | TOPSFLO B03/S #1 | TOPSFLO B03/S #2 |
| Voltage (VDC) | 12 | 12 | 12 | 12 | 12 |
| Current (A) | 0.46 | 0.19 | 0.19 | 0.43 | 0.43 |
| Max water head (M) | 2.09 | 0.96 | 0.96 | 2.35 | 2.39 |
| Max flow rate (L/min) | / | 6.29 | 6.33 | 6.35 | 6.42 |
| Rotation speed (RPM) | 4839 | 2013 | 2019 | 4776 | 4629 |
| Watts (W) | 5.52 | 2.28 | 2.28 | 5.16 | 5.16 |
1. test for foreign original pump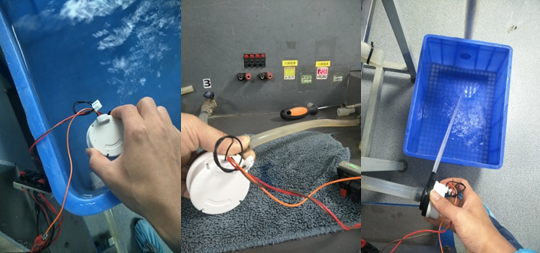 1. test for TOPSFLO B09/S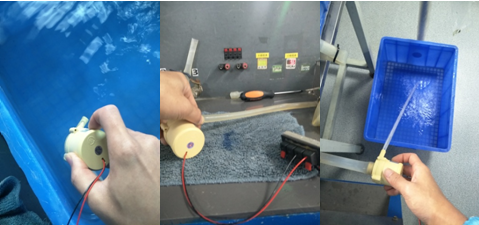 test for TOPSFLO B03/S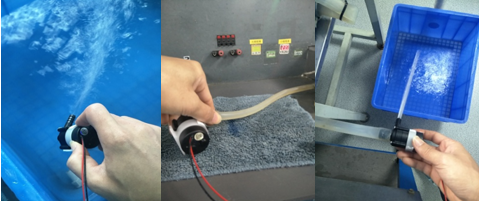 Part 2- Noise performance test
This test was conducted in professional mute room
| | | | | | |
| --- | --- | --- | --- | --- | --- |
| Items | Foreign original pump | TOPSFLO B09/S #1 | TOPSFLO B09/S #2 | TOPSFLO B03/S #1 | TOPSFLO B03/S #2 |
| Noise at 0.1M (dbA) | 41.3 | 30.5 | 30.5 | 32.5 | 31.4 |
| Noise at 0.3M (dbA) | 32.7 | 30.1 | 30.1 | 30.7 | 30.6 |
| Noise at 0.5M (dbA) | 31.3 | 30.1 | 30 | 30.5 | 30.6 |
| Noise at 1M (dbA) | 30.5 | 29.9 | 29.9 | 30.5 | 30.2 |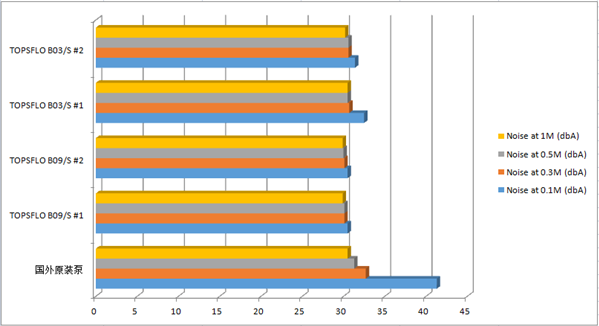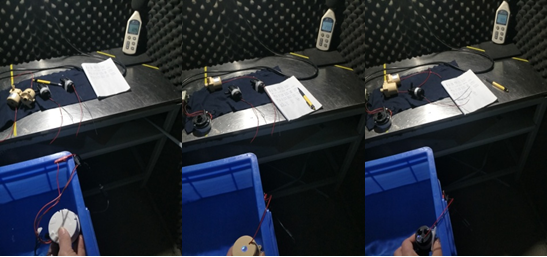 Conclusion: Among the three pump models, B09 with lowest RPM, and the results were consistent with our expectations, its noise performance was the best, around 30dB(A) at 0.1M distance. Besides, B09 pump's power consumption is as low as 2.28W, which is also very popular with consumers. If prefer bigger specification, B03 model is also a nice choice, its noise performance is even slightly better than the original pump.

TOPSFLO warm mattress pump with ultra low noise, established industry standards & barriers

Some clients feedback that " Since we use TOPSFLO pumps, our warm mattress products are warmly welcomed by markets, the pumps' quiet noise makes our customers much satisfied, especially with very good consistency in batches, the noise is totally meet our demands, so we do not have to worry about the pump quality any more. Looking in the past when use other water pumps, we always encountered many noise problems, we need do further tests piece by piece to pick out the pumps with noise problems, which is very time-consuming job and difficult for our production, and repeated communication with supplier is also a big headache, in particular when some pumps can't figure out the noise problem at the first time, but after 2 to 3 months of operation in our products, then the pump's noise become bigger, so we have received complaints from consumers, such complaints will definitely cause our brand reputational loss. "

TOPSFLO pumps' ultra low noise are guaranteed by its professional pump structure, motor & electronic design, high standard of material selection, advanced testing equipment & strict testing procedure in every process. For example, for the rotor part, it is using imported materials, high-precision Japan injection molding machine and one-time injection molding processing . The advantages of this rotor are : a) there is no risk even for 100C high temperature for long-term running; b) the product with high precision, the concentric degree will not change after a long term running time, so the product batch noise is very low & stable for long term, the overall performance is very stable. TOPSFLO high precision rotor is the first & newest innovation in pump industry. On the contrary, market's normal rotors are adopting 2 or 3 times the processing, the concentricity of the sleeve is not high accuracy, then noise can not be consistent, after a long period of running in hot water mattress, the concentricity of the sleeve will further expands and the noise increases. Another risk is if the kind of rotor running for a long time under high temperature, the graphite sleeve will come loose and possible fall off , then the noise will increase suddenly.

TOPSFLO has been focusing on quality improvement to become the industry benchmark. We solved the troubles of there is no reliable low noise pump in Chinese market. The ultra low noise pump is specially designed & manufactured for warm mattress industry, aiming to improve sleep quality, support a better & healthier life !