Topsflo adhere "all staff participation", implement the ISO9001 policy entirely
2016-10-11
ISO9001 is one of the core standards of a set of quality management system which is included in the ISO9000 standard. It's the best-selling and most common products in more than 12000 ISO standards. It's used to demonstrate that an organization has the ability to provide products that could meet customer requirements and applicable regulatory requirements, with the aim of increasing customer satisfaction. "I" stands for: International, "S" stands for: Standardization, "O" stands for: Organization. ISO9001 series standard has already been adopted by more than 90 countries at present, it is the most common international standard in the world, and had a wide and profound influence in the world.

Topsflo is a strict ISO9001: 2008 certified enterprise, the passing of this certification means that Topsflo has reached the international standard in the integration of the management system, and indicates they can continuously and steadily provide customers with the expected and satisfied products. This is the result of all staff's joint efforts of the company, is the affirmation on Topsflo's products high quality, and also gives Topsflo a kind of responsibility and motivation. Topsflo has been no slack, and always adhere to earnestly implement the ISO9001 quality policy. September 24, Topsflo organized all staff to participate in a training on "ISO9001" knowledge, mainly introduced its concept, development history, and specific content, etc, to help them more in-depth understanding of ISO9001. Really achieve "all staff participation", to implement the company's development concept of "quality is the first life" in the end.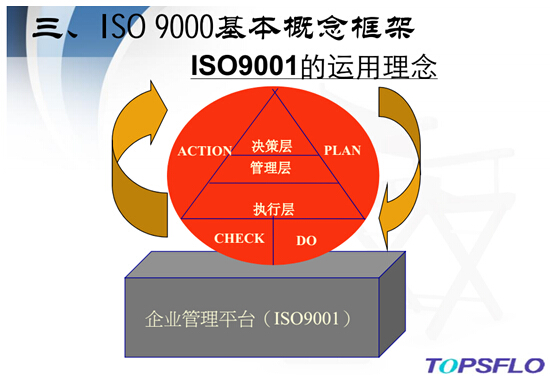 ISO9001 eight core principles:
Principle 1: Customer focus
Principle 2: Leadership
Principle 3: Full participation
Principle 4: Process Approach
Principle 5: A systematic approach to management
Principle 6: Continuous improvement
Principle 7: Fact - based decision - making method
Principle 8: Mutually beneficial supplier relationships.
Core Spirit:
1. Planning stage to achieve: the process is consistent with the actual enterprise, the feasibility.
2. Implementation stage to achieve: write what I do, do what I write, prove it to me.
3. Operational phase to achieve: continuous improvement, focus on prevention.

The implementation of ISO9001, strengthened Topsflo's quality management, increased the efficiency of enterprises, enhanced customer confidence and expanded market share, enhanced the quality awareness of whole staff and improved the enterprise culture. The right leadership decisions and customer supports are leading the rapid & steady development and growth of TOPSFLO.
It has a long way to go to achieve the vision of "century-old enterprise", Topsflo will always adhere to their quality policy of "setting up industry benchmarking with artisan spirit, establishing international quality, strive for excellence, customer satisfaction and continuous improvement", and strictly implement the ISO spirit, so that Topsflo will always be invincible in product quality competition, and strive to achieve Topsflo's great goal of "To be the leader of high-end micro pump industry".