TOPSFLO Mini Pump Food Grade FDA Certificated
2016-12-30
Topsflo have been making unremitting efforts in improving products quality at high international standard, it is not simply a slogans but positive action we have been putting it into. All of work we do are approved by customers step by stey. However, this is not enough, we know, to improve and complete related quality guarantee certifications and service management on products is one of most important key aspect to meet customer's requuirements and get trust and recognition from customers in different industries.
Most of our products and materials are approved by CE, RoHS, REACH, WR
A
S.etc international certifications. Now with the joint effort of the engineers, all departments and suppliers, we successfully gained FDA food grade certification for stainless steel(used for pump head,shaft&gasket)、graphite(used for bearing)、EPDM(used for o-ring,membrane&valve) and PA nylon(used for pump shell). In the food industry, these materials direct contact with water have strict food stately standard. With FDA approved, it certifies that the materials are used in pumps are very safe and reliable standard.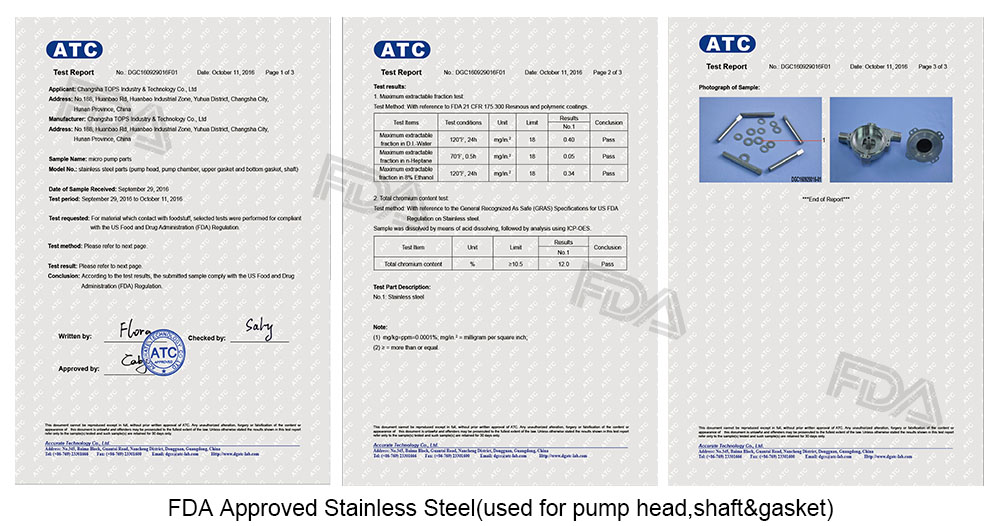 As we know, FDA(Food and Drug Administration) is responsible for protecting the public health by ensuring the safety, efficacy, and security of human and cosmetics, drugs biological products, and medical devices. FDA has been recognized as one of the world's largest food and drug management organizations. Many other countries through the FDA to seek and receive help to promote and monitor the safety of their own products. Which means, FDA is the highest standard to ensure the safety and security.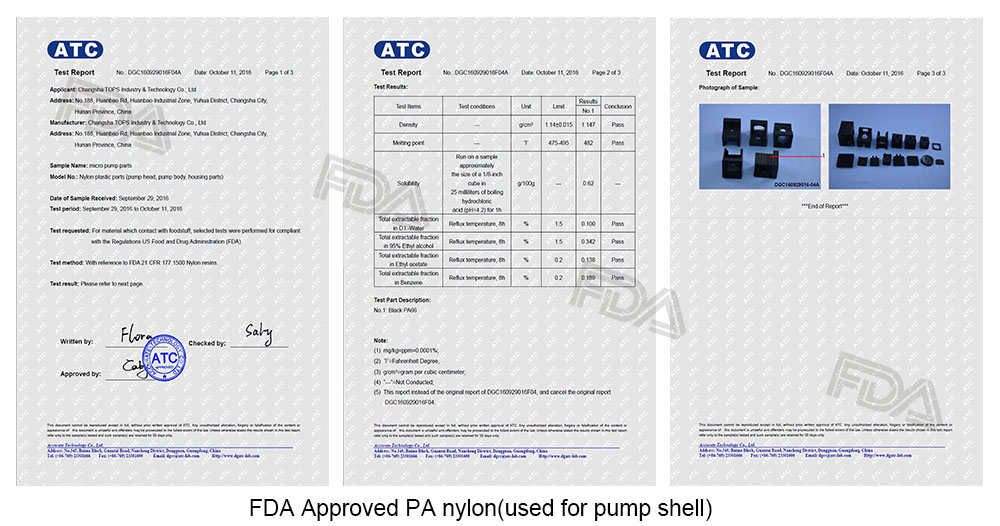 Therefore, FDA dose NOT just mean a safe standard made for Topsflo prouducts, but also means a new level in quality at food industry. Meanwhile, it indicates that Topsflo's international status is rising, Topsflo will be more and more customers' most trusted choice.

TOPSFLO Hot sale FDA food grade pump TL-B10,TL-C01,TD5 etc..