Kitchen Boiler Hot water pump for American Hot Water Specialist
2018-03-07
On 1.12.2018, Topsflo is proud to receipt the purchasing and technical team from the company "A", who is the American Hot water specialist and has over 140years history. Had a deep technical discussion of the Kitchen Boiler hot water pump TL-B03 and made a great breakthrough !

Kitchen boiler is a one of the most popular new-type home appliances now, it's also the important project of "A" company developing now. Due to theproduct need to keep the high boil water at 98-100℃, "A" meet a lot of quality problems when choose the hot water pump. But fortunately, "A" get the very unexpected harvest from Topsflo professional design and electronics engineering team is this visit, solved all of problems:

1. High temperature 98-100℃
Q1: Under high temperature,the plastic part easier to be deformed and older;
Q2.The rotor of the pumps on their hands was produced with NdFeB magnet, it must be covered by plastic but can not touch with liquid directly, and it's injected by several times, so easier to be cracked and rusty in long time use, and easier to be demagnetized under high temperature, the flow rate and pressure being smaller, etc. ;
Q3: The temperature resistance of varnished wires is too low and poor reliability.

Solution1: Topsflo TL-B03 used the original Xyron PPE which imported from Japan directly, better high temperature resistance performance and reliability than the other pumps' PA or domestic plastic material.
S2: The rotor made with Ferrite injection magnet and injected by one time, food grade and can resist the high temperature 460℃
S3: Used the famous brand varnished wires, can resist the highest temperature 180-220℃.
As above, Topsflo completely solved the problems from the material and technology, in addition to, also shared the high temperature test and use feedback from our other best-known brand companies who have the similar projects, the customer completely recognized these solutions' reliability.
2. Air Bubble issue
When the water boiling, there is generate a lot of air bubbles, it's easier to block the water flow and reduce the flow out, and result the noise problem, so the air exhaust being a very key issue. Topsflo engineering team knows this issue clearly depends on over 20years experience in pump design and solutions for our customers' different project development, so provide the most professional and key solution to A, main is: 1. Enhanced the air tightness of inlet and outlet, 2. Adjust the installation orientation to speed up air exhaust according to the real installation method in product.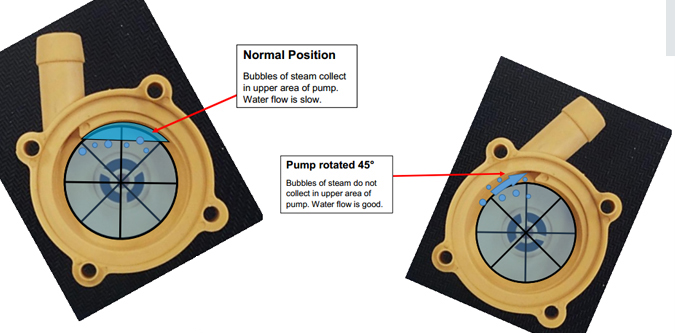 This meeting is successful and solve the quality problems of A, and Topsflo engineering team and top management be kindly invited to A company one week later, to further discuss the cooperation and business before the product launch.





Note: Topsflo specializes in R & D and production of high-end DC mini pump, household electric pump, DC brushless solar water pump, hot water circulating pump.