MICROCHIP and TOPSFLO have reached a strategic cooperation, to create a new development pattern of micro-pumps
2018-03-29
On March 29, 2018, globally famous MCU and Analog Semiconductor Vendor - MICROCHIP South China Area Leader Chai Zefeng visited TOPSFLO, deeply expressed long-term concern and support for TOPSFLO's micropump products and technologies. Richard Wang, Chairman of TOPSFLO, warmly welcomed the MICROCHIP visit, both parties conducted in-depth technical discussions and communications on the application of TOPSFLO high-temperature pumps and automotive pumps in high-temperature environments above 125°.
The deepth cooperation of two parties create a new development pattern of micro-pumps
According to TOPSFLO high temperature pump and Automotive electronic water pump adapted to high temperature environments , MICROCHIP engineers proposed intelligent solutions for the efficient operation of high-temperature chips for TOPSFLO. Both parties will carry out strategic cooperation in the development of high-tech pumps and automotive pump's chips. By the strategic cooperation with MICROCHIP TOPSFLO hopes to solve the pain points of Automotive Electronic Pumps in high temperature environments, gradually builds an efficient supply chain system for micro-pumps, accelerates technological advancement and increases value for enterprises to create a new pattern of micropump technology.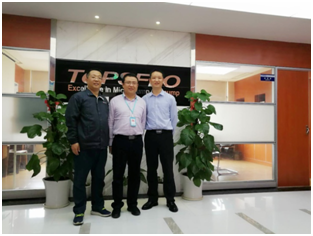 Chai Zefeng ,head of South China Region, MICROCHIP (left one) and
Richard Wang ,TOPSFLO chairman (middle).

Global Preferred Premium Supplier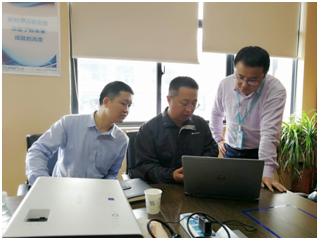 The Two Parties Technical Communication
As a leading company for high-end micro pump in China, TOPSFLO with superb process flow, excellent product quality and excellent corporate reputation, products sell well in 85 countries and regions around the world. TOPSFLO is excellent for both partners and suppliers. MICROCHIP (Microchip Technology, USA) is a world-renowned chip maker,provides low-risk product development, lower total cost, and faster time-to-market for thousands of consumer products worldwide. The strategic cooperation between TOPSFLO and MICROCHIP will enable TOPSFLO to provide customers with better products and services, also encourages innovation and development of high-tech micro-pump.