Successfully replaced famous American brands! TOPSFLO ultra-low noise diaphragm pump helps customers solve the problems of new medical system
2022-04-30
As one of the first domestic manufacturers to enter the DC micro-pump industry, TOPSFLO has provided professional customized services for micro-pumps and water technology solutions for hundreds of high-end enterprises in more than 60 countries around the world in the past 17 years. The self-developed micro-diaphragm pump products have excellent performances, greatly exceeding the domestic industry standards, comparable to foreign KNF, Parker, Thomas products, and can be used as an excellent substitute for similar applications.

New medical heating equipment urgently needs high-quality diaphragm pumps

In October 2019, the TOPSFLO sales department received a new project request from an old customer who had been cooperating for 8 years- a medical company in America: TOPSFLO was required to provide a low-noise, long-life, and superior performance diaphragm pump to replace a well-known American brand diaphragm pump. This client is committed to providing superior heating solutions for patients in a variety of clinical settings.
After in-depth communication between the TOPSFLO project team and the medical customer, we learned that this diaphragm pump is a medical device used to warm patients' bodies during surgery. The potential technology of the device originated from a study at Stanford University. With the support of the US FDA, based on this research technology, customers need to develop and improve a new heating equipment for clinical surgery. A diaphragm pump with high quality and low noise is needed to achieve the breakthrough of this new technology.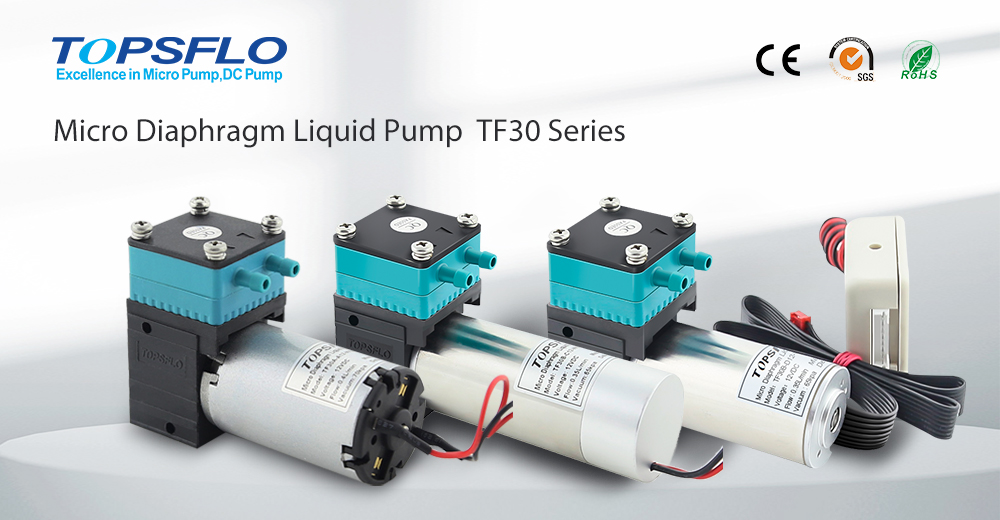 TOPSFLO precise output high standard micro DC diaphragm liquid pump
After careful and rigorous evaluation of the customer's project, TOPSFLO recommended the TF30A-C DC brushless diaphragm liquid pump to match the customer's heating equipment according to its low noise and long life requirements. This miniature diaphragm pump offers advantages over industry standards:
1. Noise as low as 50dB: TOPSFLO adopts double ball imported bearings, high-precision molds, and eccentric silent design to ensure long-term silent operation of the pump (ordinary pumps use single bearing or oil-impregnated bearing, which is not wear-resistant, has a short life, and has a noise of about 60dB).
2. The service life is more than 15,000 hours: self-developed and designed high-grade hollow cup brushless slotless motors, imported molds and raw materials, metal balance blocks, longer pump life, stable and reliable long-term operation (greatly exceeding the domestic general manufacturers brushless 5,000 hours of life).
3. The patented design balance block has good balance performance and low vibration, which is much better than ordinary products.
4. Good airtightness: Reasonable structure, innovatively designed diaphragm & valve, configured pump head & complete sealing system, the overall airtightness of the pump has reached an excellent level.
5. The product structure design is based on the international brands KNF and Parker pumps. The overall design is reasonable, compact, high performance, low noise and low vibration.

Perfectly match the medical industry, with the industry-leading level, keep improving

The client's warming system needed to safely and non-invasively flow the core blood through the patient's palm without creating convection and without affecting the laminar flow in the operating room, so the less vibration and noise from the pump, the better. After two months of testing on the equipment side, the customer reported that TOPSFLO's diaphragm pump can completely replace the American high-end brand pump that has been tested before. On the basis of the same quality and performance, it performs better in noise reduction and is perfect match the needs of medical equipment.
Subsequently, after nearly two years of tests on reliability and service life, the customer found that the performance of TOPSFLO's Miniature diaphragm pump is very stable, the noise value has always maintained a stable level, and the batch consistency of the pump is also very good. In addition, the pump and equipment have passed the US UL certification and FDA certification.

Customers say that, FDA-approved, their warming system can be used in all clinical procedures requiring normothermia, improving patient outcomes, reducing hospital stays and providing patients with quality care. As the core component of the system, TOPSFLO's mini diaphragm pump has won a good reputation from customers and huge market demand for them. In the continuous cooperation of 1,000 new project orders per month, TOPSFLO works hand in hand with customers to keep improving in the medical industry and create outstanding value for medical patients and customer investors.

"Let each pump of TOPSFLO be used with absolute confidence", TOPSFLO has fulfilled its commitment, adhered to the quality for 17 years, and strived to provide customers with high-quality DC micro-pump products. TOPSFLO's high quality standards and considerate one-stop service have also won high recognition from the market and good reputation from customers. On the way to pursue the excellent quality of DC micro-pumps, TOPSFLO will be loyal to the original intention, perseverance and continuous improvement.