2018 TOPSFLO "Uniting as one and forge ahead together" Travel
2018-11-13
TOPSFLO achieves a lot at this year, so in order to inspire everyone continue to work hard, promote company keep on stable development and industry front-runner status, and enhance team spirit, TOPSFLO organizes all management staffs travel to Jiangxi Mingyue mountain from 27th to 28th Oct.
It is a memorable memory for all of us, we have many meaningful activities during this two days tour, such as large theme painting, learning Wentang culture, enjoying natural spa, climbing Mingyue mountain, and experiencing the largest vertical ropeway in Asia, etc. During all the activities, we divided into 4 teams, and PK with other teams , all of us realized the importance of team during these activities, due to there is no perfect individual, only perfect team.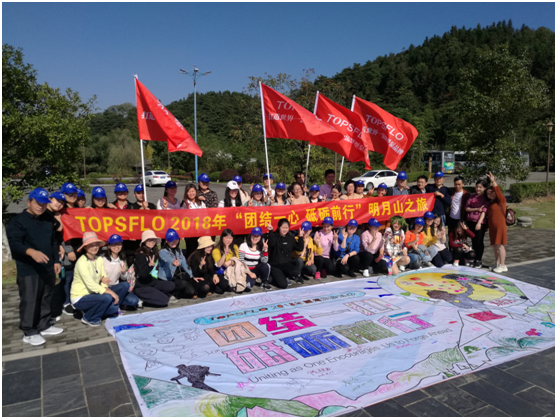 There are evergreen trees, craggy cliff, endless waterfalls, and beautiful lake on Mingyue mountain, just like a fairyland. During this travel we free from busy work, it's good for our health, and can fully mobilize our positivity, let us reach to better achievements with a full spirit after back to the office.
With TOPSFLO continuous development, and step-by-step improvement of management mode, all of these efforts make company's humanized management be fully reflected. TOPSFLO wish to build a fair and loving career platform for every employee, let everyone enjoy their charm on this stage, and enhance our team cohesion.
Climbing Mingyue Mountain is tired, painful, but happy. Even there are many difficulties, but it can't prevent our TOPSFLO family going forward together, we are united to encourage each other and climb to the mountaintop together. We believe as long as we are united, there is no difficulty.
Our aim is to be the micro water pump field high-end leader and the most influential enterprise, we want to reach to the international top level on micro pump industry in the coming days, and we always working towards this aim!