DC Electric Instant Water Heater Boosting Pump
2015-12-31
TOPSFLO TL-C01 is the specializing Electric Instant Water Heater Pump, is used to replace the traditional AC water heater pump or develope the new generation DC silent instant water heater, have the advantages of high efficiency, more safe, silent, power-saving, better boosting, all these made people in comfortable shower and an improvement than the traditional AC pump.

The TL-C01 Brushless DC Pump/ Micro Pump/ Mini Pump/ Instant Water Heater Pump main features as follows:

Features

• Advanced magnetic driving technology for static-seal,without any leakage forever
• Heavy duty work,can sustain continuous 24hours work
• High efficiency ECM brushless DC motor with long lifetime 20,000hours
• 3-phase motor for lower power consumption and lower fever
• Durable permanent magnetic rotor/impeller and fine ceramic shaft
• Specializing closed-type impeller for lower water loss bring higher efficiency
• High precision one-time injection magnetic rotor for stable lower vibration
• High temperature materials for liquid temperature ≥90℃
• Low or no maintenance
• Food grade materials
• Imported Japan XYRON PPE material, certificated by WARS & NSF.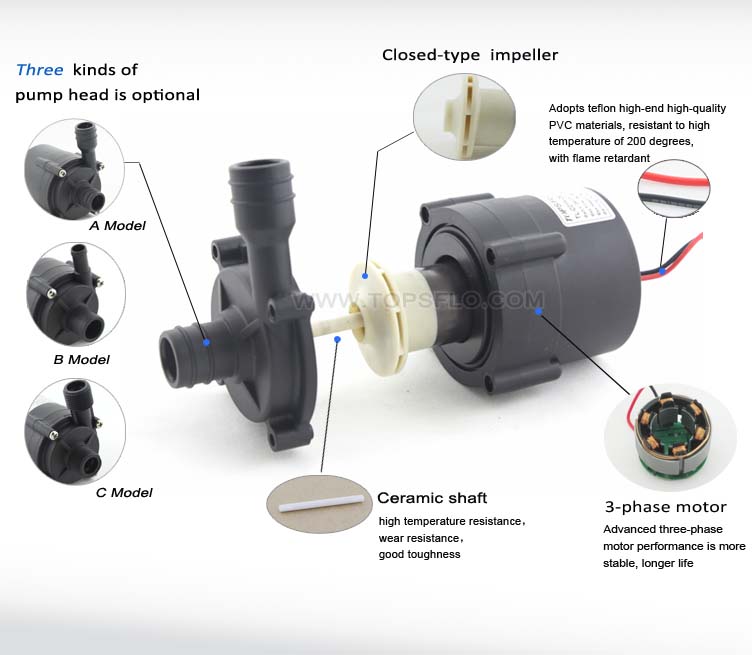 Besides, what made the pump in successful and high enjoyed by clients main basis on it's high quality level, NSF, WARS certification materials, silent noise lower 10dB than markets normal pump, closed-impeller with low water losing high efficiency, 3-phase motor with long-term reliable performance.

For this good pump, any more information, please freely contact with us by telephone 0086-(0)731-82739266 or by e-mail sales@topsflo.com, and welcomed to visit the website www.topsflo.com