TOPSFLO High temperature pumps accurately solved customer problems and won new high-end customers in the soft drink industry
2021-09-14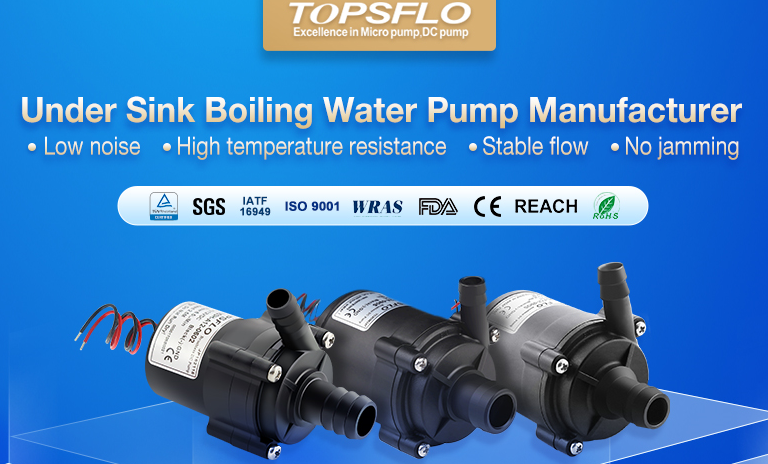 After more than half a year testing, TOPSFLO sales engineer Molly once again received an email from B company, a giant in the US soft drink industry. Among them, the customers gave high recognition and evaluation to our centrifugal brushless DC pumps, R&D technology and service. According to the original words of the customer: "This project was in a troublesome situation after several rounds of testing failures with other pumps in the early stage . But to our surprice, Topsflo provided us high temperature pumps with very stable flow output. At the same time, Topsflo professional technical support and complete certifications have exceeded our expectations. We believe Topsflo pumps can work well with us together to help users drinking water in a healthy and joyful way..."

As one of the largest soft drink companies in the United States, B company has a history of more than 100 years which is a creative, energetic and trustworthy soft drink enterprise is dedicated to helping consumers achieve using water in a healthy and happy way. The brands of B company are distributed in many countries and regions, and its products are sold in more than 50 countries. As a supplier of instant boiling water system for B Company, Topsflo pumps not only solve the problems of customers in terms of product performance, but also technical services and certifications which provided great support to the customer.

Based on high standards, accurately solve customer problems

In mid-2020, TOPSFLO sales engineer Molly received an email from the customer for the first time, asking us about a high temperature mini water pump that can be used in an instant hot water dispenser. The customer stated that they had tested several other brands before, but the water flow was reduced, or even no water came out when these pumps delivered high-temperature water of 98°C or above . At the same time, the customer also needs complete international standard certifications because of the wide range of sales around the world. However, many suppliers are small in scale and lack of self-management, which's far from reaching the standards of international certifications. The customers project had been stalled due to the high quality requirements of pumps.

TOPSFLO has a long-term cooperation with many well-known brands of hot water dispensers, and always strictly require itself in accordance with high international standards, and with FDA, WRAS, NSF, and CE approved which help customers feel more assured to use water. Meanwhile, according to the problem mentioned by the customer, Topsflo sales engineer Molly analyzed that the reduced flow rate and unstable flow out put is because of the air trapped or cavitation under the high temperature at 98°C and above. According to customers' needs, Topsflo recommended the special developed TL-B03 series high temperature dc water pumps for under counter water boiler with below advantages——
1. The professional and patented high temperature exhaust design made which enable low-cavitation operation and stable flow output at 97°C-100°C;
2. International imported plastic parts adopted, which can withstand high temperature at 200°C, no use of any recycled materials and do not crack for long-term high temperature use;
3. International brands of electronic components used which are stable and reliable for long-term high-temperature use;

Adhere to high-quality services, professional technical support

During the sample testing stage, TOPSFLO sales engineer and R&D engineers paid much attention to the customer's testing status, gave positive responses to various questions asked by customers, gave timely and professional reply to related technical problems, and provided professional suggestions on their application design, pipeline, installation and other technical aspects.

After more than half year testing, customers said that the services and technical support provided by Topsflo completely exceeded their expectations. Although most of the suppliers previously contacted have capability of mass production, but the technical support is too weak and the response is very slow. Meanwhile, Topsflo pumps are with very stable flow rate output under high temperature, the quality and performance are much higher than nearly ten water pumps they tested before, which can fully meet the needs of their boiling water systems.

"Creating outstanding value for customers" has always been the philosophy of TOPSFLO. During the working with B company, Topsflo has in-depth insights into the customer's industry, actively helps customers solve pain points and technical problems, and facilitate mutual cooperation with complete high standard international certifications. No matter it's a new customer or an old customer, TOPSFLO will, as always, focus on the quality of the product, make it to the extreme, and serve more professional customers around the world with high-end quality.