Twelve years together, TOPSFLO has grown together with global famous automotive air-conditioning customers
2022-07-12
From 2010 to 2022, just like Ma Liang's magic brush, Changsha has taken on an entirely new look, from "blueprint on paper" to fame -- replacing flat houses with high-rises, turning dirt roads and mud pits into high-speed overpasses, and evolving from three-wheel buses to subway and private car.
Twelve years is not a short time, which can make Changsha change with each passing day, and can also make the cooperation between enterprises continue to flourish. If time is the most loyal recorder, then CN company is the most persistent witness of the development of TOPSFLO Pump industry.

Twelve years, starting from the common pursuit of quality
In 2010, CN Company hoped to find high-quality automotive air-conditioning parts suppliers in China. As one of the earliest pioneers in the brushless DC car water pump industry in China, TOPSFLO has been committed to the research and development of high-quality pumps,with mature products and supporting experience of projects. TOPSFLO's unremitting pursuit of quality and continuous breakthrough in technological innovation have deeply attracted customers. After a preliminary understanding of the TOPSFLO pump industry, CN company purchased the first small batch samples. After the test, the customer gave a high evaluation to the TOPSFLO pumps in terms of batch consistency, noise value, design, and other aspects. Thus, the prelude to the 12-year cooperation between TOPSFLO and CN Company was opened.
In the past twelve years, TOPSFLO and CN Company have changed from a simple cooperative relationship to a good friend. Customers said that CN has suppliers all over the world, and has signed numerous contracts with many companies, but the cooperation with TOPSFLO is the most time-tested and baptized.

Twelve years, loyal to the original intention of " Anxious customer need"
After the outbreak of the epidemic, it is full of difficulties for everyone and every company, and many things are full of uncertainties and challenges. CN originally planned to purchase a batch of water pumps at the end of May 2021. In April, TOPSFLO suddenly received an urgent notice from the customer and needed to deliver the pumps in advance to the beginning of May. This batch of water pumps will be used in the air conditioners of trucks transporting epidemic prevention materials.
Considering the urgent needs of customers, TOPSFLO immediately organized relevant departments to hold an emergency meeting, expedited the procurement of materials, adjusted the production plan, and finally completed production on May 6. However, there are new problems in transportation .Air transportation is the fastest way, but the CN reported that all the flights they booked were empty of space. After learning this news, TOPSFLO logistics department immediately consulted our domestic forwarder and closely followed up the space situation.The hard work paid off, one company changed the flight plan, and these pumps successfully boarded the flight to the destination.
In June, CN sent an email to thank TOPSFLO for its support during the epidemic. They received this batch of water pumps in advance and these water pumps have been officially used in trucks transporting epidemic prevention materials. Every time we communicate with CN, we can feel their trust and support for TOPSFLO. And this email made the hearts of TOPSFLO rise with pride and joy.

Twelve years, a long-standing tacit understanding
On Christmas Eve, in order to express our blessings and thanks to our customers, TOPSFLO specially made a festive video to share with CN and CN's reply made us feel warm.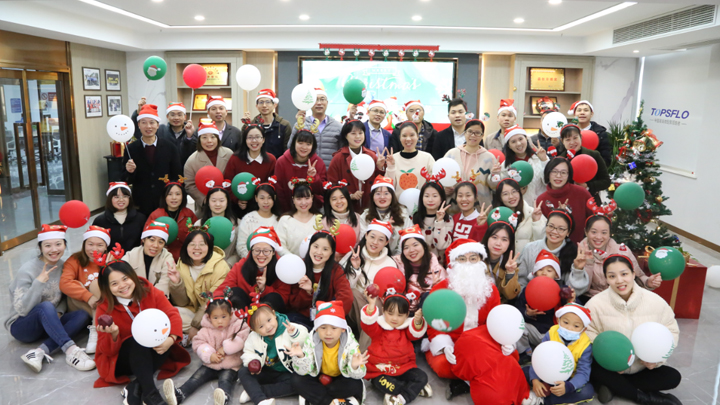 Hi kayla
Indeed it has been a very difficult year, God allow this pandemic to end soon, but after that, it will be to start year zero.
How beautiful is this video! How beautiful, the whole TOPSFLO family! It has moved me warmly, and it is not just a cliché, it is reality.
I wish all TOPSFLO and you in particular the greatest successes in the new year.
I greet you with much affection!!!

In the past 12 years, Changsha has not been what it used to be, and the development of CN Company is even more prosperous. While sincerely happy for everyone's common growth, TOPSFLO Pumps has always adhered to the original purposes- "provide safe, continuous and stable fluid power", and "become the global leader in high-end micro-pump brands". To "become the global high-end micro pump brand leader" for the development vision, ensure the highest quality products, achieve the most satisfactory results, and promote the most far-reaching development. It is said that the original intention is easy to obtain, but it is always hard to maintain. In the beginning of the 12th year, TOPSFLO Pumps has not changed its heart.


Keywords: TOPSFLO Pumps, Automotive air-conditioning pump, car circulation water pump