TOPSFLO new intelligent DC variable frequency water pump attracts tremendous attention Ultra-quiet, Safe, Eco-Friendly, Smart, Not One Less
2019-07-25
-- Professional match with "zero cold water" gas water heater, solar water heater, air water heater, electric water heater, Miniature Water Heater
When showering evolves into bathing, it indicates that China's current middle-class elite has turned from simple dust washing to bath enjoyment. The demand for water heater products has also risen to a new level, which also brings the overall high-end water heater market trend.
For consumers, their concern of choosing a water heater is no longer energy efficiency standard, but "will it be suddenly too cold or hot", "noise is big or not" "is it easy to use in winter", "is water volume big enough" etc, they more focus on the experience feeling .Therefore, the core of water heater competition in the end is to improve user experience in terms of functional features.
Zero cold water, intelligent, ultra-quiet, quality will be the market direction
Through in-depth exchanges with well-known water heater experts at home and abroad and user data surveys analysis, TOPSFLO summed up the new development trend of water heater industry and pump solutions:
The first is "zero cold water". The zero-cold water thermostatic water heater uses a built-in high quality centrifugal DC circulating pump to circulate and heat the cold water in the water pipe, so can ensure hot water supply in the first time. The heater with built-in cycle preheating function, one-button all-weather insulation function, can preheat the cold water in the hot water pipe and achieve supplying constant temperature hot water at different water points . The era of time-consuming and wasteful cold water before bathing has gradually disappeared. "Zero-cold water" brings intimate enjoyment of hot water at any time.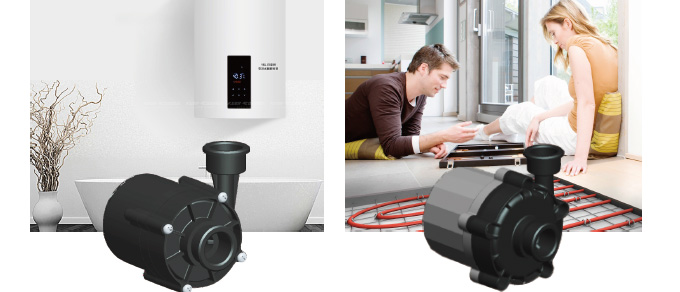 The second is "smart", including smart products and smart manufacturing. Single product intelligence can no longer meet the needs of users, interconnected smart bathroom will become next research direction in the industry, then the traditional AC pump has been gradually phased out. Haier, AO Smith, Rinna, Vanward (L7), Macro, Midea (T5 ), and other mainstream brands' high-end zero cold water gas water heaters products are all using DC pumps. TOPSFLO as the leader in micro DC variable frequency water pump industry in China, the professional hot water pump expert and solution solver, can flexibly customize the pump solution according to customer needs, to achieve the best matching with water heater system, for example:
1. Customized temperature induction output function, which can control the start and stop of the pump by sensing the temperature range, avoid the 24hours continuous duty, longer life and more energy saving;
2. Customized 5V/PWM speed control function, can achieve the best performance according to the water pressure;
3. Customized pump and sensor match control function, booster pressure intelligently: when users using water, pump automatically supplements the system's water output with the maximum speed boosting operation. When not use water, the pump runs at a low speed to maintain a constant system, to make sure always supply water with constant pressure & temperature.
The third is "ultra-quiet". Bathing is a relaxing and enjoyable thing. It is really disturbing to hear the noise, and destroys the quiet atmosphere of bath. TOPSFLO continues to play its role in pursuing every detail. The pump adopts ultra-quiet design, maximum 24L, 11M (rated 9L/min @10M), pump noise performance is <38dB (5-10dB lower than the common water pump in the market), and the noise effect is better when installed in water heater. Because TOPSFLO pump uses Japan imported Xyron PPE materials, injected by high-precision JSW Japan injection, and with excellent rotor dynamic balance consistency, so noise is very low and with good batch consistency.
The fourth is "security." Water pump as the core component of the water heater, its quality is especially important. TOPSFLO is China's first batch of manufacturing experts into the dc micro pump industry, whose market positioning is the middle to high-end market in Europe and America for more than a decade. Its product safety performance has undergone rigorous testing and market verification for many years, pump safety standard has established industry barriers:
1. DC safety voltage, over voltage protection, over current protection, stall/block protection, run-dry protection, waterproof and moisture protection ( rating IP68), multiple protection functions escort the security;
2. resistance 100C high temperature for long term , low heating, low temperature rise;
3. 30000 hours long life zero maintenance;
4. up to 35kgs burst pressure without cracking, and the long-term withstand pressure is 18bar;
5. The shell adopts Japanese direct import PPE , with WRAS, FDA, NSF food certs.
TOPSFLO believes that product development and production should always be based on user needs, with quality and safety as the basis and product strength as the core, supporting water heater manufacturers to provide users with enjoyable bath, smart and healthy life. With more technology exploration in energy saving, smart, health and comfort direction , the future prospects will be better and better !