TOPSFLO Diaphragm Pump for Drop-on-demand Inkjet Printers
2016-03-18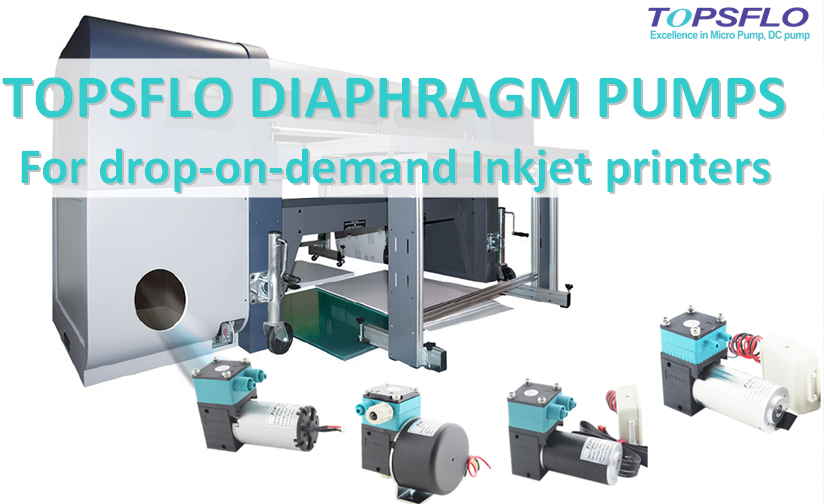 In the process of high speed inkjet, the ink needs to be transported to ink nozzles constantly. In order to ensure the continuous supply of ink, there will be an ink pump to convey ink from ink barrel to the cartridge. TOPSFLO has supplied the drop-on-demand inkjet printing market with optimized liquid and gas/vacuum pumps since its infancy.
We have accumulated an in-depth knowledge of these printing systems by working directly with designers to develop pumps best-suited for several critical functions. TOPSFLO is proud to have contributed to the market's successful evolution to now include inkjet printer, commercial printer, 3D printer, bio-material dispensing, single-pass printing, and ceramic ink printer.
TF30 series diaphragm pump can accurately transport various kinds of ink with high viscosity, with suction head lift >2 meters and pressure head >10 meters. As a ink pump, TF30 series are high precision flow rate, which are desired for inkjet printer application.
In a whole inkjet printer system, TOPSFLO diaphragm pumps can be used for following typical functions:
■Bulk ink supply/replenish
■Ink degassing
■System vacuum
■Cleaning station
■Ink recirculation
■ Print head temperature control

■ Media pre-treatment
■ Anti-siphon at head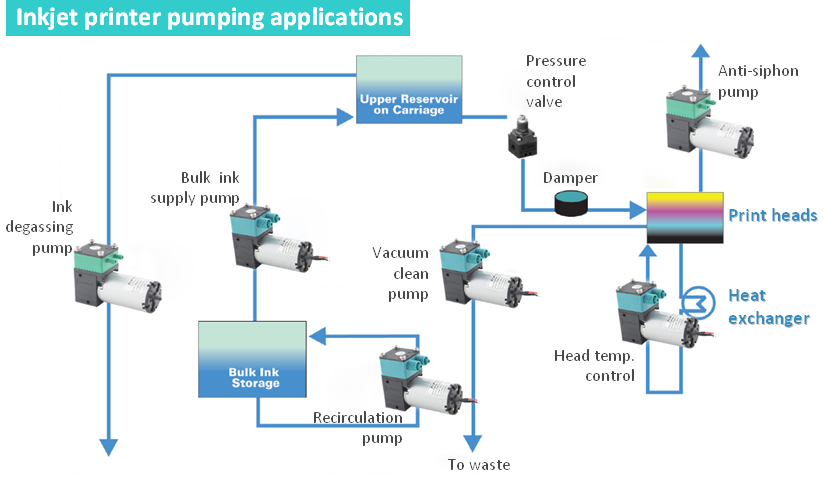 TOPSFLO ink pump TF30 series is specially designed for inkjet printer system, suitable for water-based ink, solvent-based ink, eco solvent-based ink and oil ink, etc. It can be driven by 12V or 24V DC power, and its flow rate is optional. The flow rate can maintain high reliability and stability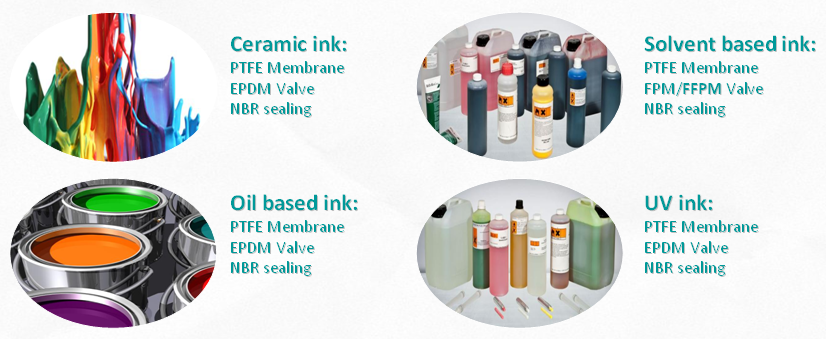 Aiming at inkjet printers, main features of TOPSFLO diaphragm pump are as follows:

■ Advantages include a longer service life, self-priming, leak-tightness, and less expensive than piston, peristaltic, or gear pumps.
■ Ink types we can handle include UV cured, titanium dioxide pigmented, security, in addition to the more traditional water, and solvent based inks.
■ for corrosive inks, choose among wetted parts of Nylon, PTFE, peroxide-cured EPDM, FFPM, FPM, and many others.
■ for a trouble-free lifetime, our patented, one-piece molded diaphragm, usually found only in larger, more expensive pumps, eliminates a metallic securing disc. This improves chemical-resistance and eliminates external leakage.