Topsflo new DC pumps showing at ISH CHINA, triggers industry changes
2019-07-27
Recently, the global high-end micro-pump leader Topsflo attended ISH CHINA 2019. As the leading fair in Asia, ISH CHINA once again brings the latest products and technologies to the HVAC industry and covers a wide range of HVAC, building water supply&drainage, comfortable furniture fields etc. With an area of 116,000 square meters, the exhibition has more than 1,300 high quality HVAC brands from 22 countries and attracted more than 75,000 professional visitors from all over the world.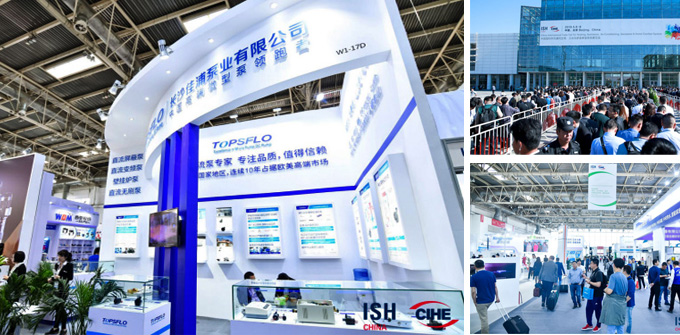 15 years overseas exhibition experience, the first time show at domestic industry exhibition
Topsflo has been focusing on serving the high-end market in Europe and America for 14 years, and has rich experience in large-scale foreign exhibitions. This time, Topsflo brings new micro pumps and fluid solutions to the domestic exhibition. This is also the first time for Topsflo showing up at the domestic exhibition, which means that Topsflo will attach great importance to the domestic high-end micro-pump market, adjust its strategic layout, focus on the development of domestic business, and bring better products & services to domestic customers. Years of industry experience, high quality products and professional solutions have made Topsflo be quickly focused by visitors when first showing at ISH CHINA.
In order to promote the development of domestic business, the general manager and the domestic business director of Topsflo also visited the exhibition. They gave a detailed description of the company's brand positioning, core technology and application fields which were highly recognized by customers, and reached intention cooperation with more than tens of new customers at the exhibition.
A number of long-term foreign cooperators also visited the booth and actively exchanged new technologies with Topsflo & learned about the company's new trends.The high batch production consistency, perfect service and the innovation concept of constantly going beyond oneself, which all connect Topsflo with these customers closely. Many industry engineers also came to the booth to know more about Topsflo technology, and invite the top management of Topsflo to visit the companies and discuss the possibility of more cooperation in the future.
In this exhibition, Topsflo attracted many visitors and counterparts with its star products and the response was overwhelming. The new technologies and the new application fields of these star products are of extraordinary innovative significance.
Boosting Water Pump
TL-D01-A for Gas Boiler
In the ISH exhibition hall, TOPSFLO brings the brand new circulating water pump for zero cooling water gas water heater and new boosting water pump for gas boiler, to show the latest R&D technology and achievements. Committed to creating a green and healthy life with technology, TOPSFLO provides users with efficient, stable, comfortable, energy-saving and environmentally friendly solutions, and successfully developed the model TL-C01-A & TL-D01-A. In addition to the high quality of TOPSFLO pump, the new products carry forward a new technology, which is a combination of top technology and structure.

New product TL-C01-A∕TL-D01-A:
Japanese-style rigorous: PPE raw materials imported from Japan, integrated injection molding, prevent any secondary use of recycled materials
Germany fine workmanship: German imported devices
High efficiency and energy saving: Fully enclosed impeller for high flow and high water head
Safe and reliable: Automatic stop operation when blocked, over-current, over-pressure, water-free, and over-temperature
High temperature endurance performance: ambient temperature -40 ° C to 70 ° C, liquid temperature -40 ° C to105 ° C
User-friendly design: Equipped with FG signal line for intelligent speed control
TOPSFLO, dig deep into the needs of customers, pays attention to consumers' ultimate pursuit of home space and comfort, the pump finally equipped with better quality parameters and results in a smaller product volume, ultra-quiet and smooth operation. Efficient products and high batch consistency provide users with reliable product support.
DC Variable-Frequency Pump for Hot Water Heating
With the continuous improvement of China's clean heating policy, TOPSFLO responded positively and successfully developed new product DC variable-frequency pump TL-D01-B suitable for boiler energy-saving renovation, solar energy, domestic hot water system circulation, heat pump and floor heating.
New Product TL-D01-B:
Efficient and energy-saving: Use high-efficiency three-phase motor to achieve DC variable frequency, easy to deal with high and low peak electricity
Quiet: equipped with intelligent PWM signal conditioning for a quiet experience
Compact design: small size to saving home space
Intelligent: automatically matched with other heating equipments in the house, to control heating in all areas, domestic hot water circulation, solar auxiliary heating system
Easy installation: Professionals can master the installation skills in 30 minutes and complete the installation process easily
International certification: CE, RoHS, WRAS and other international certified
The parameters can be customized according to actual needs achieving multiple environments available.
TOPSFLO exhibition site; Engineers are communicating with guests actively)
DC pumps replace traditional AC pumps —— Lead the technological revolution
In addition to TOPSFLO new products attract a large number of visitors to the exhibition, TOPSFLO new technology also surprised lots of visitors in the exhibition, attracted many peers to discuss with TOPSFLO engineers and sales.
Nowadays, many HVAC products still use AC pumps, but compare DC pumps, AC pumps have some shortcomings, such as shorter lifetime, larger size and higher noise. They not only compress consumers' home space, but also bring problems such as safety hazards and noise interference, which seriously affect consumers' use sense.
As the leading brand of mini DC pumps,TOPSFLO has 15 years of experience in R&D and practical application of
mini brushless DC pumps
. It has provided DC pump customization services to many well-known European manufacturers of HVAC products. The different products solutions are available in 85 countries around the world, widely used in those region well.
The
DC brushless centrifugal pump
with advanced shielding technology, which has long lifetime, safety and high efficiency; can work continuously for 24 hours; without shaft seal structure design; the liquid and motor never separate etc. advantages. The DC pump developed by TOPSFLO is bound to lead the water pump revolution in the HVAC industry, replacing the AC pump with a safe, efficient and long-life DC pump should be imperative in the near future.


In the future, TOPSFLO will continue to lead the industry with advanced R&D, providing reliable solutions to customers around the world with superior technology, providing the end users with safe and stable fluid power solutions.