Nasal Aspirator professional high vacuum pump
2016-11-09
All children are precious, the biggest hope of every parents is the children can grow happily. In the baby's common diseases, the middle ear infection is one of the most common diseases, it will cause great pain and discomfort, now more and more parents focus on nasal care, especially the newborns, need more care and protection. So the Nasal Aspirator was born, it helps the parents to solve this difficult problem successfully.


1. What is the Nasal Aspirator?
Nasal Aspirator is designed for baby to clear the nasal, mainly because the nasal was confused by baby too small blow their nose, the stagnating nasal mucus will block the nose, and interfere with baby breath, sleep and breast-feeding, and cause the middle ear infections if serious. The Nasal Aspirator can easy to suck the nose nasal secretions in-depth, prevent bacteria and mucus into the middle ear, address the concerns of parents. Especially the electric nasal aspirator, which is easy to use, portable, and it can control the suction power more stable, has great suction power and gentle enough to use on newborns, it's very popular with the parents and doctors and widely used in household and medical care.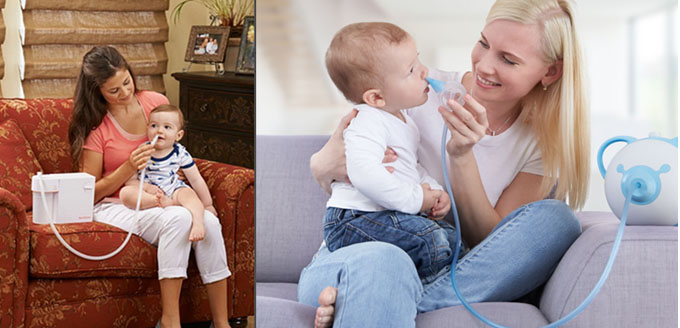 2. Big suction power vacuum pump, easy and convenient, safe and quiet
A good Nasal Aspirator should use a high quality vacuum pump. TOPSFLO specialized
vacuum pump
TM40-B12-V7513/ TM40-B12-V8015
should be your the beest choice. Compared with the other pumps in market,
Topsflo TM40-B
vacuum pump (old version TZX512-V12-8015) materials, overall design, lifetime and performance ect. are better and more stable.

1.Better plastic material, can resistant high pressure and without deformation.

2.Higher quality membrane material EPDM, better stability and reliability

3.The motor quality and overall performance improved a lot than common pumps, lifetime up to 1200hours

4.Can realize the max vacuum -80Kpa, max flow rate 15L/min

5.Eccentric (counterbalance) change to use metal (common pump use plastic eccentric), and pump used the high-end professional mute bearing(the batch efficiency is better than imported bearing), the overall noise more stable, especially the batch products with a good consistency.

6.Can customize: add capacitor to reduce EMI, mounting bracket to reduce vibration and noise (example as below picture), etc. according to customer requirements, create a very safe and quiet environment for the babies.

3. Market and Topsflo customer
It is reported that the global number of the newborn babies is about 200 thousands every day, above 73 million of a year; and there is a very high rate of infection and recurrence in the U.S. over 5 million children suffer from acute otitis media each year and as much as 4 billion dollars are spent for its diagnosis and treatment; so the nasal care and nasal aspirator are given more and more global families and medical institutes' attention, the potential market is very considerable.
In Nasal Aspirator industry, Topsflo has rich experience and won a lot of customers' trust base on the high quality and excellent service, has been supplying professional vacuum pump above 4years for a very famous nasal aspirator brand A in Japan, annual order quantity up to 50-60K; at the same time, the representatives from another global famous maternity & baby company B in Japan visited us in this October, the batch production of the new Nasal aspirator is estimated in 2017. TOPSFLO vacuum pump
TM40-B
should be the most reliable product to you too, believe can breakthrough a larger potential market for you.