Long life and low noise, zero impurities, high reliability, low defect rate, low heat generation and low maintenanceare key factors to consider when selecting pumps for medical equipment. With a reputation for reliability and quiet operation, TOPSFLO products are found in all types of equipment designed to monitor, sterilize, diagnose and analyze. Other applications assist in healing, promote patient's comfort and support life itself.

Our expertise in this industry is long and extensive, as evidenced by the substantial list of applications we service. Our willingness to work as partners to solve a problem and our ability to customize a product to fit particular requirements are fundamental to their satisfaction. And the trust they place in the reliability of our products is well-founded.


Micro diaphragm pumps
are the power components of IVD instrument
In IVD instrument, the micro liquid pump is an important power part of in vitro diagnostic analysis and a power component of the hydraulic system. It is widely used in clinical chemistry, blood analysis, immunology, microbiology and many other fields to complete important functions such as sample delivery, waste liquid removal, pipeline and component cleaning.
1. Schematic diagram of IVD in vitro diagnosis: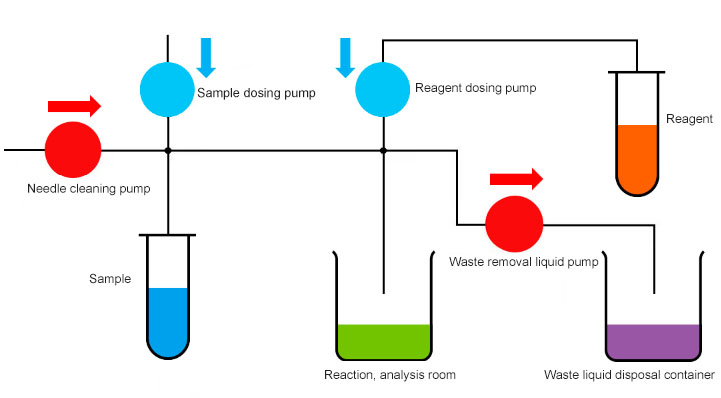 2. The main link of the liquid circuit treatment:
Sample dosing--Dispensing reagents---Pipeline cleaning---Waste liquid removal